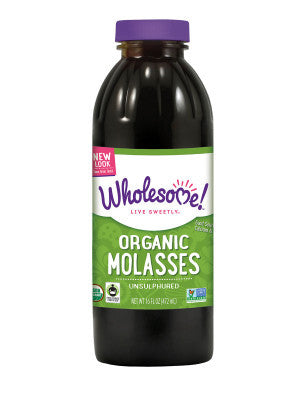 Wholesome Organic Blackstrap Molasses
Wholesome! Fair Trade Organic Molasses has a rich, full-bodied robust flavor and adds natural color and opulent caramel molasses tones to recipes. It is especially good in gingerbread, molasses cookies, bran muffins, quick breads, chili, BBQ sauces and in marinades. Our molasses is unsulphured, organic blackstrap-style molasses. Try Wholesome!'s delicious Organic Molasses recipes. It can be used as a one-for-one replacement for refined molasses.
Wholesome! Organic Molasses is made during the production of our Organic Sugar in Paraguay. It is a good source of vitamins, minerals and trace elements naturally present in the sugar cane plant and is a good source of iron, vitamin B6, potassium, calcium and magnesium. Our Organic Molasses is naturally gluten-free, vegan, and kosher.
Nutrition Facts
Serving Size 1 Tbsp (22g)
Servings Per Container 32
Amount Per Serving 1
Calories 60Calories from Fat 0
% Daily Value*
Total Fat 0g 0%
Sat. Fat 0g 0%
Trans Fat 0g 0%
Cholesterol mg %
Sodium 0mg 0%
Total Carbohydrates 14g 4%
Dietary Fiber g 0%
Sugars 10g
Protein 0g
Vitamin A %
Vitamin C %
Iron %
* Percent daily values are based on a 2,000 calorie diet.

INGREDIENTS
Fair Trade Organic Blackstrap Molasses