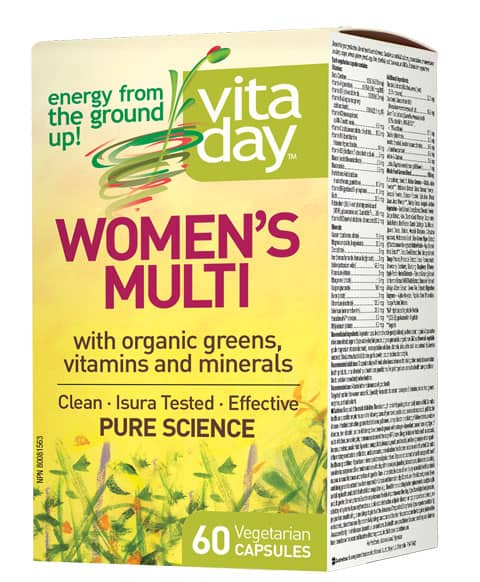 Vitaday Multi Womens
WITH ORGANIC GREENS, VITAMINS, AND MINERALS
Includes coenzyme B vitamins and a whole food greens blend
Easy to digest with a blend of digestive enzymes
Contains rhodiola, cranberry, L-carnitine, and green tea
Support for energy, immunity, and bone health
Contains iron to prevent iron deficiency, anemia, and tiredness.
Non-GMO verified by ISURA

 

TM
Contains organic ingredients
Vegetarian friendly
MEDICINAL INGREDIENTS
1 VEGETARIAN CAPSULE
3 VEGETARIAN CAPSULES
VITAMINS
Beta-Carotene
1250 IU (750 mcg)
 3750 IU (2250 mcg)
Vitamin A (palmitate)
1655 IU (500 mcg RAE)
4965 IU (1500 mcg RAE)
Vitamin D3 (cholecalciferol)
332 IU (8.3 mcg)
996 IU (24.9 mcg)
Vitamin E (d-alpha tocopheryl acid succinate)
33 IU (22.3 mg AT)
99 IU (66.9 AT)
Vitamin K2 (menaquinone) as MK-7 (natto bean)
6.6 mcg
19.8 mcg
Vitamin C (calcium ascorbate, dihydrate)
83.3 mg
249.9 mg
Vitamin B1 (benfotiamine, thiamine hydrochloride)
14 mg
42 mg
Vitamin B2 (riboflavin 5'-phosphate sodium)
8 mg
24 mg
Niacin (inositol hexanicotinate)
6.6 mg
19.8 mg
Niacinamide
6.6 mg
19.8 mg
Pantothenic Acid (calcium d-pantothenate, pantethine)
16.6 mg
49.8 mg
Vitamin B6 (pyridoxal 5'-phosphate)
11.6 mg
34.8 mg
Biotin
33.3 mcg
99.9 mcg
Folate (from (6S)-5-methyltetrahydrofolic acid (MTHF), glucosamine salt, Quatrefolic®)
200 mcg
600 mcg
Vitamin B12 (methylcobalamin, dibencozide)
83.2 mcg
249.6 mcg
MINERALS
Calcium (carbonate, citrate)
76.6 mg
229.8 mcg
Magnesium (oxide, bisglycinate)
33.3 mg
99.9 mg
Zinc (citrate)
5 mg
15 mg
Iron (ferrous fumarate, ferrous bisglycinate)
5 mg
15 mg
Iodine (potassium iodide)
166.6 mcg
499.8 mcg
Potassium (citrate)
5 mg
15 mg
Manganese (citrate)
1.6 mg
4.8 mg
Copper (gluconate)
500 mcg
1500 mcg
Boron (citrate)
1 mg
3 mg
Chromium (nicotinate)
133.3 mcg
399.9 mcg
Selenium (selenomethionine)
33.3 mcg
99.9 mcg
Vanadium (HVP* chelate)
8.3 mcg
24.9 mcg
Molybdenum (citrate)
8.3 mcg
24.9 mcg
ADDITIONAL INGREDIENTS
Rhodiola Extract (Rhodiola rosea) (root) (3.5% rosavins)
33.3 mg
99.9 mg
Cranberry Concentrate 18:1 (Vaccinium macrocarpon) (fruit)
16.6 mg
49.8 mg
Green Tea Extract (Camellia sinensis) (leaf)
   (60% catechins, 40% EGCG**, < 15% caffeine
17.1 mg
51.3 mg
Choline (bitartrate)
8.3 mg
24.9 mg
Inositol (inositol, inositol hexanicotinate)
9.9 mg
29.7 mg
L-Carnitine (tartrate)
6.6 mg
19.8 mg
Indole-3-Carbinol
1.6 mg
4.8 mg
Lutein (Tagetes erecta) (marigold flower)
1 mg
3 mg
Whole Food Greens Blend
100 mg
300 mg
A proprietary blend of:
Active Greens – Alfalfa Juice Powder***, Artichoke Extract, Black Currant Powder, Broccoli Powder, Spinach Powder, Spirulina, Wheat Grass Juice Powder***, Barley Grass, Arugula;
Active Vegetables – Beet Extract, Celery Extract, Tomato Powder, Ginger Extract, Kale, Cilantro Leaf, Parsley, Caperberry, Black Radish, Red Radish, Carrot, Cabbage, Cauliflower, Upland Cress, Daikon, Wasabi Rhizome (Wasabia japonica), Watercress Leaf, Blue-Green Algae Extract (Aphanizomenon flos-aquae);
Active Fruits – Açai Extract, Amla Extract***, Grape Seed Extract, Red Orange Extract, Mango Powder, Pineapple Extract, Grape, Pomegranate, Strawberry, Cranberry, Blueberry, Raspberry, Bilberry, Apple Pectin;
Herbal Extracts – Siberian Ginseng Extract, Schisandra Extract, Milk Thistle Extract, Dandelion Extract, Ginkgo biloba Extract, Green Tea Extract;
Digestive Enzymes – Alpha-Amylase, Papain, Stem Bromelain, Papaya Powder, Betaine.
*HVP: Hydrolyzed Vegetable Protein
**EGCG: Epigallocatechin-3-gallate
***organic
Non-medicinal ingredients: Vegetarian capsule (carbohydrate gum [cellulose], purified water), organic Oryza sativa (rice) bran extract, organic Oryza sativa (rice) hull powder, organic gum arabic, organic non-GMO sunflower oil, vegetable grade magnesium stearate (lubricant), microcrystalline cellulose, chlorella, silica, citric acid, kelp extract, Eucheuma seaweed, Stevia rebaudiana leaf, licorice, garlic powder, copper sodium chlorophyllin.
Recommended adult dose: 3 capsules daily with food, a few hours before or after taking other medications or natural health products, or as directed by a health care practitioner. For prolonged use, consult a health care practitioner.Not to be taken immediately before bedtime.
Contains no artificial colours, preservatives, or sweeteners; no dairy, sugar, wheat, gluten, yeast, egg, fish, shellfish, salt, tree nuts, or GMOs.