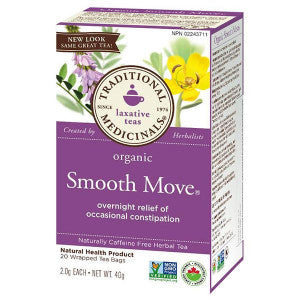 Traditional Medicinals Smooth Move
NPN 02243711
Recommended use: For the overnight relief of occasional constipation.
Recommended dose: Adults and children over 12 years: unless otherwise prescribed, drink 1 freshly prepared cup of Organic Smooth Move® once daily at bedtime. This product generally produces bowel movements in 6 to 12 hours. Children under 12 years: Consult a physician before use.

Directions for use: Pour 240 mL freshly boiled water over 1 tea bag and steep, covered, for 10 to 15 minutes. Gently squeeze the tea bag to release the remaining extract.
Medicinal ingredients: Each tea bag (2.0 g) contains: organic senna leaf (Senna alexandrina) 1,080 mg.

Non-medicinal ingredients: Organic licorice root (Glycyrrhiza spp.), organic bitter fennel fruit (Foeniculum vulgare), organic sweet orange peel (Citrus sinensis), organic cinnamon bark (Cinnamomum spp.), organic coriander fruit (Coriandrum sativum), organic ginger rhizome (Zingiber officinale), oil of sweet orange peel (Citrus sinensis) on gum Arabic, organic.
Cautions: Do not use this or any laxative if abdominal pain, nausea, or vomiting are present. Prolonged and extended use may cause dependence of the bowel function. This product should not be used longer than 1 week, unless directed by a physician. Do not take this or any laxative within 2 hours of another medicine because the desired effects of the other medicine may be altered.

Contraindications: Ileus, acute intestinal inflammation (e.g., Crohn's disease, ulcerative colitis), appendicitis, abdominal pain of unknown origin, severe dehydration states with water and electrolyte depletion.

Side effects: In individual cases, abdominal spasms and pain may occur, particularly in patients with irritable colon. In these cases, a dosage reduction is necessary.

Pregnancy and lactation: As with any drug, if you are pregnant or nursing a baby seek the advice of a health professional before using the product.

KEEP OUT OF REACH OF CHILDREN