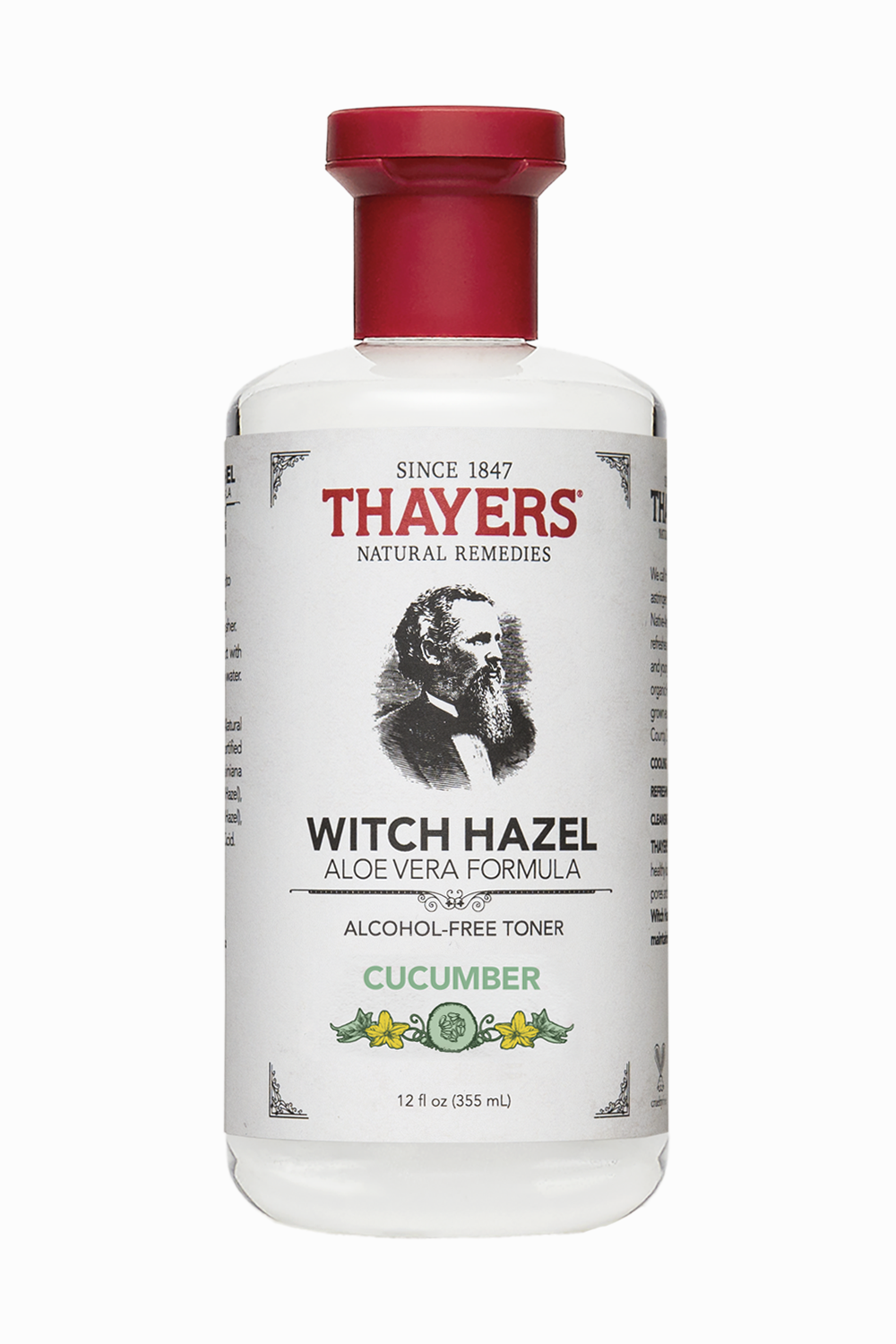 Thayers Alcohol-Free Cucumber Witch Hazel Toner
Stay Cool as a Cucumber, Whatever the Weather. THAYERS® Alcohol-Free Cucumber Witch Hazel with Aloe Vera Formula Toner cooling essence has a deliciously serene effect on the body. Experience our formula for serenity now!
Cucumber is packed with Vitamin C and caffeic acid, which are key in soothing the skin by reducing puffiness and irritation.  Antioxidants in cucumbers diminish clogged pores and help fade dark circles under eyes, blemishes, and scarring. Vitamin B-5 in cucumbers also help to retain moisture in the skin, allowing for your skin to feel fresh all day.
Ingredients: Purified Water, Certified Organic Witch Hazel Ext Blend (Hamamelis Virginiana Extract (Witch Hazel*), Aloe Barbadensis Leaf Juice (Filet of Aloe Vera*)), Glycerin, Phenoxyethanol, Cucumis Sativus (Cucumber) Fruit Extract, Citric Acid, Citrus Grandis (Grapefruit) Seed Extract
*Denotes Certified Organic Ingredient
Hamamelis Virginiana? We Call It The Shrub Of Life.
Made of extract from the Witch Hazel shrub (Hamamelis Virginiana) and a blend of other time-tested ingredients – THAYERS® Witch Hazel with Aloe Vera Formula Astringents and Alcohol-Free Toners are soothing, natural treatments that cleanse, tone and soothe your skin. THAYERS® are the only Witch Hazel products made of non-distilled extract from the Witch Hazel shrub maintaining the highest levels of therapeutic tannins.
These natural elixirs have been a fixture in medicine cabinets for generations. Once you use them, you'll know why.