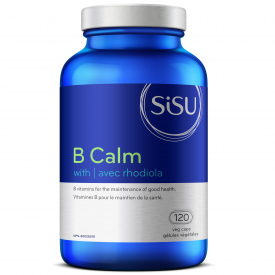 SISU B Calm
B Calm with Rhodiola
B vitamins to support metabolism, with herbal support for periods of stress.
Stress, aging, active lifestyles, poor digestion, alcohol consumption, PMS, menopause, and cardiovascular disease are just some of the factors that increase the body's need for B vitamins. Inadequate intake of some B vitamins is not uncommon and deficiencies can be associated with fatigue, insomnia, depression, and migraines. In the diet, B vitamins are found in yeast, green leafy vegetables, and lentils. The best sources of B12 are meat and seafood, making supplements particularly advisable for vegetarians. When the effects of physical or mental stress start to take a toll on our health, the additional support of an herbal adaptogen, such as rhodiola, that gently normalizes the nervous system, can quickly bring noticeable relief.
Product Information
Complete B complex formula plus rhodiola to support overall health, particularly in people under physical or mental stress
B vitamins support liver detoxification, healthy cholesterol levels, adrenal function, and hormone balance
Supplementing with B vitamins combats deficiencies caused by various chronic diseases, a vegetarian diet, stress, and age
Rhodiola is an adaptogen, meaning it normalizes production of certain hormones within the nervous system to invigorate a sluggish system or calm an agitated one
Rhodiola is clinically proven to improve general well-being, decrease mental fatigue, and improve performance during periods of stress
High-potency rhodiola extract, grown in Siberia and standardized to contain 3% rosavins and 1% salidrosides
SISU Advantages
Moderate potency, fast-dissolving vegetarian capsules
Active forms of vitamin B2 and B6
Contains niacinamide, a non-flushing vitamin B3
Suitable for vegans
Good Manufacturing Practices standards
Tested for guaranteed purity and potency
Tested for pesticides and herbicides
NPN approved
Available In...
| | |
| --- | --- |
| Size | Unit |
| 60 | veg caps |
| 120 | veg caps |
Size, Unit |60, veg caps |120, veg caps
Each vegetarian capsule contains: Medicinal ingredients:Vitamin B1 (thiamine)...25 mg  (thiamine hydrochloride) Vitamin B2 (riboflavin)...25 mg (riboflavin & riboflavin-5-phosphate (sodium salt)) Vitamin B6...50 mg  (pyridoxine hydrochloride & pyridoxal-5-phosphate) Vitamin B3 (niacinamide)...20 mg Vitamin B5 (pantothenic acid)...100 mg  (calcium-d-pantothenate) Vitamin B9 (folate) (folic acid)...200 mcg Biotin...75 mcg Vitamin B12 (cyanocobalamin)...100 mcg Roseroot (Rhodiola rosea) root extract...250 mg    standardized to contain 1% salidrosides
*Non-medicinal ingredients: microcrystalline cellulose, magnesium stearate (vegetable), silicon dioxide. Capsule shell: hypromellose.

Contains no dairy, soy, peanuts or preservatives.
*also standardized to contain 3% rosavins
Adult dosage: Take 2 capsules daily or as directed by a health care practitioner.