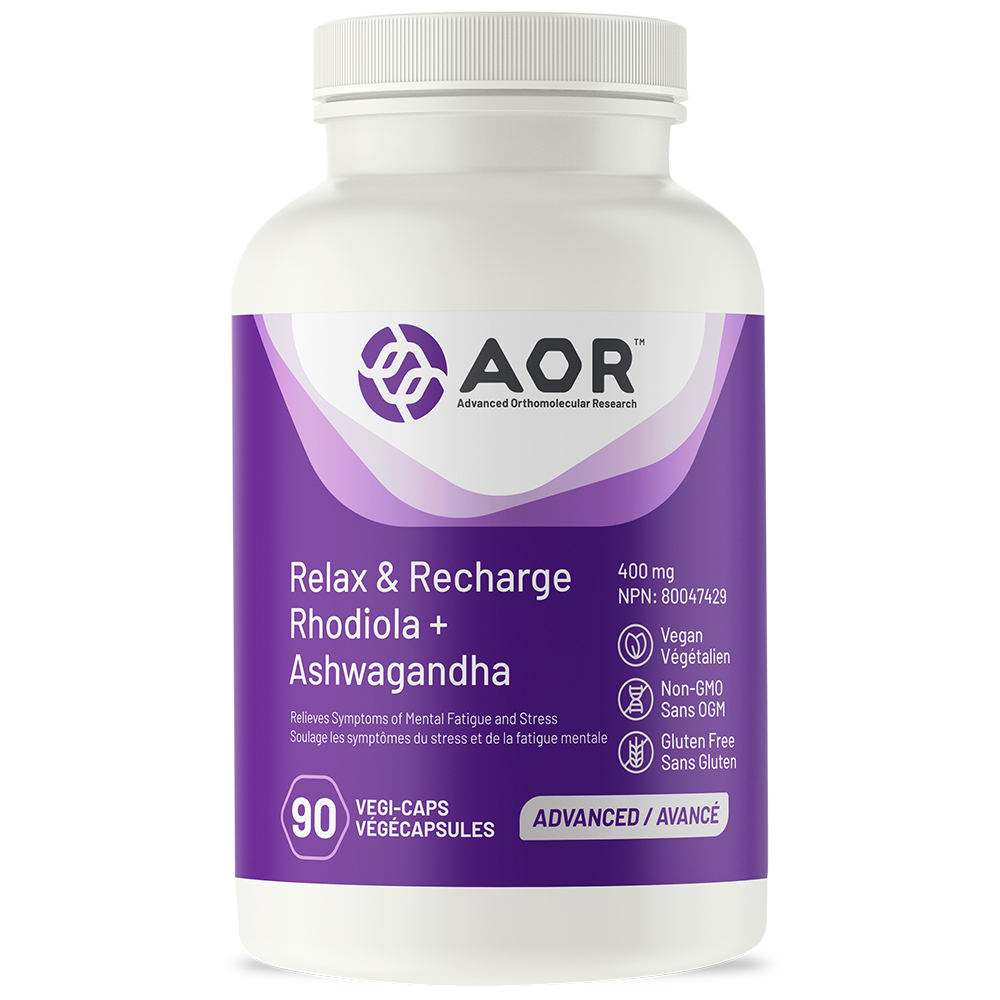 Relax & Recharge
Ancient herbs to help you adapt to stress
Formulated with the adaptogenic herbs rhodiola and ashwagandha
Relieves symptoms of stress and reduces cortisol, the body's main stress hormone
Enhances memory, sharpens mental focus and improves attention span
Boosts energy and reduces mental fatigue
Relax & Recharge was formulated for individuals who suffer from symptoms of anxiousness, sadness or stress-related burnout and as a result, are exhausted and have difficulty concentrating. It helps improve focus, memory and stamina and reduces feelings of stress, making it an ideal supplement for students, shift workers and those who need extra mental energy.
Relax & Recharge contains rhodiola and ashwagandha, two powerful adaptogenic herbs with complementary actions. Adaptogens help the body to adapt to stress by increasing the brain's stress tolerance and reducing the harmful effects stress has on the body. Rhodiola has been well-studied and has demonstrated the ability to improve physical and mental performance under stress, and ashwagandha enhances memory, reduces anxiety and strengthens the immune system. Both rhodiola and ashwagandha reduce levels of the stress hormone cortisol and help improve energy levels.
AOR Advantage
AOR's Relax & Recharge is the "go-to" natural formula to reduce stress and fatigue and boost both mental and physical performance.
NPN
Discussion
Rhodiola and Ashwagandha are adaptogenic herbs that condition the body to react favourably to stress. They are used in Ayurvedic medicine as a rejuvenative tonic to boost energy, relieve debility and to enhance memory. Relieves symptoms of stress such as mental fatigue and sensations of weakness. Supports cognitive function by improving mental focus and attention span, and boosting mental stamina. Provides antioxidants.
Guarantees
AOR™ guarantees that all ingredients have been declared on the label. Contains no wheat, gluten, corn, nuts, peanuts, sesame seeds, sulphites, mustard, soy, dairy, eggs, fish, shellfish or any animal by product.
Adult Dosage
Take one capsule one to three times daily with/without food, or as directed by a qualified health care practitioner. Do not take immediately before bedtime. Do not open capsules, as this may compromise the stability of the medicinal ingredients.
Cautions
Consult a health care practitioner prior to use if you are pregnant or breastfeeding, taking antidepressant medication, hormone replacement therapy (HRT) or birth control pills, or if symptoms persist or worsen. Consumption with alcohol, drugs or other natural health products with sedative properties is not recommended. If you experience irritability or insomnia, discontinue use. Do not use if you have bipolar disorder or bipolar spectrum disorder.
Main Applications
Cognitive function
Energy/fatigue
Focus/concentration
Immunity
Mood
Stress
Disclaimer
The information and product descriptions appearing on this website are for information purposes only, and are not intended to provide or replace medical advice to individuals from a qualified health care professional. Consult with your physician if you have any health concerns, and before initiating any new diet, exercise, supplement, or other lifestyle changes.