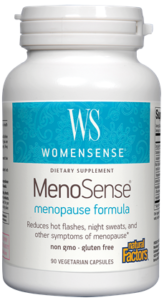 WomenSense Menosense
For the reduction of:
hot flashes
night sweats
poor sleep
irritability
nervousness
loss of concentration
vaginal atrophy
vaginal dryness
moodiness
leg cramps
headaches
profuse perspiration
The term menopause occurs when a woman experiences one full year with no menstrual cycle. Peri-menopause is the 10-15 years leading up to menopause. Both times in a woman's life can bring a variety of unwelcome symptoms. MenoSense® contains natural ingredients that have been clinically demonstrated to help relieve the symptoms associated with menopause and peri-menopause. MenoSense® is approved by Health Canada for treatment of symptoms of menopause including hot flashes, night sweats and more.
Natural Relief from Menopause Symptoms
Dong Quai: Dong quai root has been used to treat a variety of disorders in traditional Chinese medicine for hundreds of years, including menopausal symptoms and other menstrual related problems like dysmenorrhea. It is thought to contain phytoestrogens which can help reduce the severity of menopausal symptoms. When combined with other herbs including black cohosh, chasteberry and ginseng, dong quai has been shown to be effective in helping to relieve menopausal symptoms including sleep disturbances and hot flashes.1
Chasteberry: Chasteberry is widely used and accepted in Europe as a highly effective natural treatment for female complaints such as PMS, dysmenorrhea, painful breast swelling and menopause.2 Chasteberry contains a variety of active compounds that help to balance hormone levels and have a normalizing effect. Chasteberry may also help to normalize progesterone levels, which is especially useful during peri-menopause when menstrual irregularities are common.2 In women with menstrual disturbances chasteberry has been shown to improve cycle regularity, normalize hormone levels and reduce PMS symptoms.3
Black Cohosh: Black Cohosh is a highly effective natural treatment for a variety of menopausal symptoms. The efficacy of black cohosh in treating women with symptoms of menopause has been demonstrated in 5 clinical studies comparing the black cohosh extract with either a placebo or hormone replacement therapy. In all studies black cohosh significantly improved symptoms of menopause including hot flashes, insomnia, anxiety, fatigue and headaches.2
Gamma-Oryzanol: Gamma-oryzanol is an antioxidant compound derived from rice bran. Although it is best known for its cholesterol lowering benefits, research has also shown that this compound is very effective for reducing menopausal symptoms.4 In one study, supplementation with gamma-oryzanol reduced symptoms including hot flashes by half in 67% of women.5
Hesperidin: Hesperidin is a bioflavonoid found in citrus fruit that has been demonstrated to help reduce hot flashes. One study found that vitamin C and hesperidin relieved the symptoms of hot flashes in 53% of the women in four weeks.6 Hesperidin may also  have the additional benefit of helping to reduce bone loss and improve bone strength.
EACH 2 CAPSULES CONTAIN
Dong Quai (Angelica sinensis) Extract (root)... 100 mg
(4:1 from 400 mg of Dong Quai)
Chasteberry (Vitex agnus-castus) Extract (0.6% Aucubin)
(fruit)... 80 mg
(10:1 from 800 mg of Chasteberry)
Black Cohosh (Actaea racemosa) Extract (rhizome and root)...80 mg
(2 mg of triterpene glycosides measured as 27-deoxyactein)
Gamma-Oryzanol (from rice bran oil)... 75 mg
Hesperidin (Citrus sinensis) (pericarp)... 75 mg
Non-medicinal ingredients: Cellulose, vegetarian capsule (carbohydrate gum, purified water, silica), silica, vegetable grade magnesium stearate (lubricant).
Adults
2 capsules at breakfast and 2 at bedtime or as directed by a health care practitioner. Consult a health care practitioner for use beyond 1 year.
This product does not contain artificial preservatives, colour or sweeteners; dairy, soy, wheat or yeast.