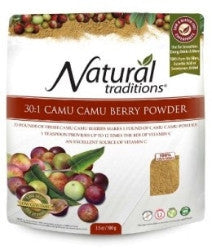 Organic Traditions - Camu Camu Powder
Camu Camu (Myrciaria Dubia) is a low-growing shrub found throughout the Amazon Rainforest.  For years the scientific community has known that camu camu berries provide the richest and most bio-available source of vitamin C on the planet.  Their availability, however, has been significantly limited as they grow only in remote, hard-to-reach areas of the Amazon Rainforest.
Wild crafted Camu Camu Berry Powder
100% COLD Dried NO fillers NO maltodextrin NO ascorbic acid NO added sweeteners 66lbs of fresh camu camu.