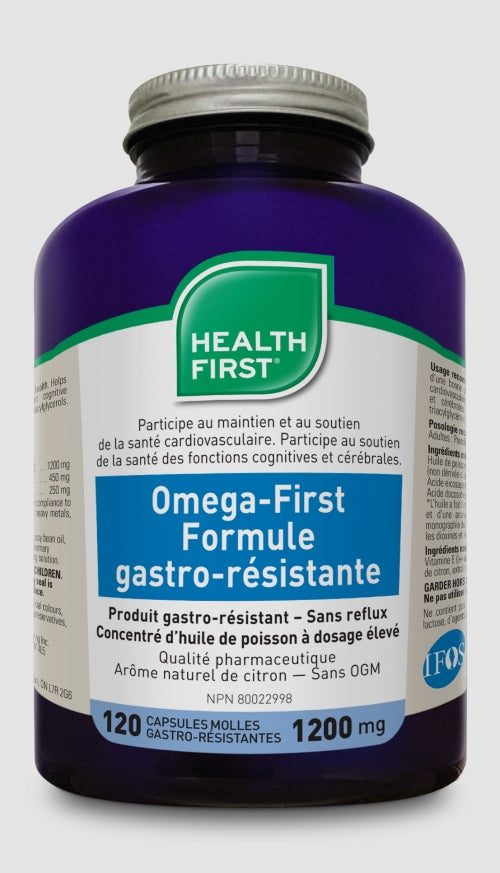 Omega First Enteric
120 Enteric-Coated Gelcaps
Recommended use: Source of omega-3 fatty acids for the maintenance of good health. Helps maintain/support cardiovascular health. Helps support cognitive health/brain function. Helps to reduce serum triglycerides/triacylglycerols. Helps support the development of the brain, eyes, and nerves (for children aged 18 and under).
Recommended dose:
Adults: Take 2-3 gelcaps daily.
Children (1-18): Take 2 gelcaps daily.
Medicinal Ingredients:
Each enteric-coated gelcap contains:
Fish oil (from non-farmed anchovy, sardine, salmon, tuna body oil) 1200 mg
EPA (eicosapentaenoic acid) 450 mg
DHA (docosahexaenoic acid) 250 mg
*Molecularly distilled for purification and analyzed to ensure compliance to the CRN (Council for Responsible Nutrition) monograph for heavy metals, dioxins and PCB's.
Non-medicinal ingredients:
Vitamin E (d-alpha tocopherol) in soy bean oil, gelatin, natural lemon flavour, rosemary oleoresin extract, aqueous coating solution.
Storage: Keep out of the reach of children.
Do not use if under cap safety seal is broken.
Free from artificial flavours, artificial colours, gluten, wheat, lactose, artificial preservatives, added sugar and yeast.
Manufactured exclusively for: Health First Network, Burlington, ON
Product Brief:
· Omega-First Enteric gelcaps will pass through the stomach for absorption in the intestinal tract.
· Enteric-coated version of Omega-First for those consumers who are prone to repeating or stomach upset with fish oil.
· Tested by IFOS (International Fish Oil Standards) for purity potency and safety.