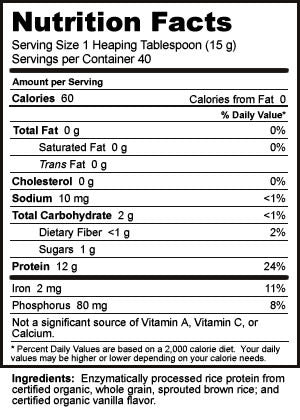 NutriBiotic Organic Rice Protein
Certified Organic by CCOF / USDA Organic
Certified Kosher - Orthodox Union
Raw • 80% protein content
Gluten free • Vegan
Made without pesticides, herbicides, GMOs, and PCBs
NutriBiotic Vegan Organic Vanilla Rice Protein is a high quality, low carbohydrate vegetable protein. This easily digestible protein provides an extensive array of naturally occurring amino acids, the building blocks of protein.
Boost your nutrition and energy with this healthy and wholesome, protein rich formula!
NutriBiotic Vegan Organic Rice Protein is produced by means of a unique enzyme process. A proprietary blend of organic plant enzymes are used to separate the fiber and carbohydrates from the protein portion of the organic, whole grain, sprouted brown rice. Low temperatures used during processing prevent denaturing of the amino acids. NO CHEMICALS are used at any time. Due to this enzyme process, color, taste, and texture may vary.
Ingredients:
Enzymatically processed rice protein from certified organic, whole grain, sprouted brown rice; and certified organic vanilla flavor.
Made without soy, milk, eggs, wheat, corn, nuts, yeast, and preservatives.