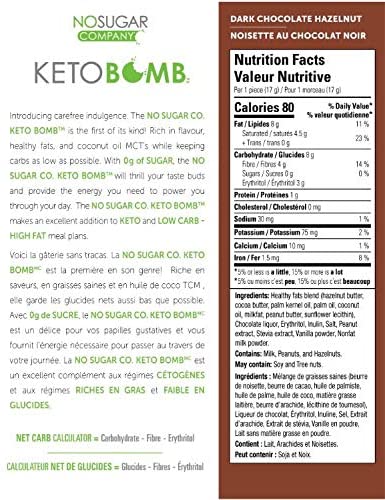 No Sugar Keto Bomb - Dark Chocolate Hazelnut
Introducing the HAZELNUT NO SUGAR KETO BOMB, a creamy, nutty, keto-friendly snack with a mix of healthy fats and coconut MCT's all coated in a creamy and nutritious, custom dark chocolate blend. This healthy keto snack is perfect whether you are on the ketogenic diet, or looking for no sugar alternatives. With only 1g of net carbs and 0g of sugar, this no sugar snack will crush your chocolate hazelnut cravings! Hazelnuts are a great source of dietary fibre and can reduce inflammation. These innovative treats from No Sugar Company are the best keto snack to help you stay healthy and satisfied on your no sugar or keto journey!

Why say no to sugar? Reducing sugar from your diet can increase your energy and prevent associated health risks. NO SUGAR KETO BOMBS are the perfect low-carb snack - it's the treat without the cheat!
1g Net Carbs = 8g carbohydrate - 4g Fiber - 3g Erythritol
Ingredients: Healthy fats blend (hazelnut butter, cocoa butter, palm kernel oil, palm oil, coconut oil, milkfat, peanut butter, sunflower lecithin), Chocolate liquor, Erythritol, Inulin, Salt, Peanut extract, Stevia extract, Vanilla powder, Nonfat milk powder.
Contains: Milk, Peanuts, and Hazelnuts.
May contain: Soy and Tree nuts.
Nutrition Facts: Serving Size 1 piece (17g) | Servings Per Container 30 | Calories 80 | Total Fat (8g) 11% | Saturated Fat (4.5g) 23% | Trans Fat (0g) | Cholesterol (0mg) 0% | Sodium (30mg) 1% | Total Carbohydrates (8g) | Fibre (4g) 14% | Sugars (0g) | Erythritol (3g) | Protein (1g) | Calcium (10mg) 1% | Iron (1.5mg) 8% | Potassium (75mg) 2%