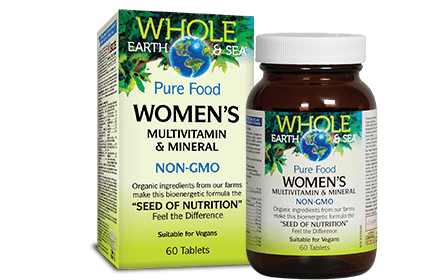 NF - Whole Earth & Sea Women's Multivitamin
This non-GMO, whole-food formula features bioenergetic vitamins and minerals in a nutrient-rich base of organic plants grown on Natural Factors farms. Plants are harvested at their peak and immediately raw processed at our facilities using EnviroSimplex® to retain the vital minerals, vitamins, enzymes, phytonutrients, and antioxidants. The processing temperature always stays below 48 °C (118 °F) resulting in raw nutrition from whole plants that captures all the vibrant energy and goodness of nature.
Also available in 120 Tablets
Sustainably Sourced
Whole Food Source
Non GMO
No Gluten
No Corn
About Women's Multivitamin & Mineral
Bioenergetic Whole Earth & Sea formulas are the next generation of whole food supplements, delivering raw, whole food nutrition with real health benefits. Many of the vitamins and minerals in this nutrient-packed formula are sourced from plants such as amla, lichen, algae, kelp, natto, garlic, tomato, and sunflower, with food-source nutrients more easily absorbed and used by the human body.
Every formula contains meaningful amounts of each vitamin, mineral, and phytonutrient – not just the minimum required to list it on the label! Each tablet includes 150 mg of Farm Fresh Factors™, sourced from fresh raw plants, whole sea vegetables, cruciferous sprouts, fruit, and herbs, many of them grown on Natural Factors certified organic, non-GMO farms. Proprietary EnviroSimplex® processing keeps the temperature below 48 °C (118 °F), resulting in raw nutrition that captures all the vibrant energy and goodness of nature.
The Pure Food Women's Multivitamin & Mineral contains vitamin and mineral complexes important for women, including calcium and magnesium in a 2:1 ratio, vitamins D3 and K2, iron, and active forms of folate, B12, and other B vitamins. Enzymes, antioxidants, and other phytonutrients are also included for energy and vitality, making this vegan-friendly formula ideal for any woman looking for a raw-food-based multi packed full of organic ingredients.
Suggested Use
Recommended use: A bioenergetic multivitamin and mineral formula for the maintenance of good health.
Recommended adult dose: 2 tablets daily with food, a few hours before or after taking other medications, or as directed by a health care practitioner.
Cautions: For adult use only. Keep out of the reach of children. There is enough iron in this package to seriously harm a child. Consult with a health care practitioner prior to use in the case of an estrogen-dependent cancer, if you have a kidney disorder, cardiovascular disease and/or diabetes, or if you are taking blood thinners. Do not use if you are pregnant or breastfeeding.