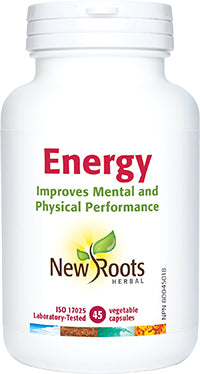 New Roots - Energy
New Roots Herbal's Energy is a well-balanced combination of nutrients designed to increase energy and stamina.
New Roots Herbal's Energy formula is a multidimensional blend of nutrients formulated to amplify energy and build stamina. Let's review the ingredient deck of our naturopath-developed formula.
Energy Contains…
ᴅ‑Ribose helps restore energy levels to speed up recovery time following periods of stress and exertion.
Astragalus (16% polysaccharides) is one of the most valued herbs in the East. It is especially wonderful for increasing energy and stamina as well as for building up the body's resistance. It is a tonifying herb that helps to balance the body's systems.
Panax ginseng (20% ginsenosides) is known as the king of all energy tonics. It stimulates the whole body, helping to overcome stress, fatigue, and weakness.
Siberian ginseng (0.8% eleutherosides) is one of the best energy tonics. Studies have shown that it can dramatically increase endurance, allowing those who use it to work longer and harder, and to recover from exhaustion faster.
Licorice root (10% glycyrrhizinic acid) is well known for its ability to help with stress and energy. It contains substances similar to the body's adrenal cortical hormones, making it ideal for those suffering with adrenal insufficiency and exhaustion.
DIRECTIONS OF USE
Adults ≥ 18 years old: Take 1 capsule once or twice daily or as directed by your health-care practitioner.
Duration of use:Consult a health-care practitioner for use beyond 1 month.
WARNINGS
Contains no: Gluten, soy, wheat, eggs, dairy, yeast, citrus, preservatives, artificial flavour or colour, or starch.
Cautions and warnings: Consult a health-care practitioner prior to use if you are pregnant or breast-feeding; if you are taking antidepressant medications; if you are taking blood thinners or digoxin; if you have diabetes; if you have any type of acute infection; or if you have an autoimmune disorder. Consult a health-care practitioner if symptoms persist or worsen.
Contraindications: Do not use if you have high blood pressure; if you have a liver disease or hematological disorder; if you are taking Warfarin; if you have allergies or are suffering from asthma; or if you have allergies to bees or bees products.
Known adverse reactions: Hypersensitivity (e.g. allergy) has been known to occur; in which case, discontinue use. Some people may experience insomnia, anxiety, or headaches; in which case, discontinue use.
Do not use if seal is broken. Keep out of reach of children.
INGREDIENTS
Each vegetable capsule contains:
ᴅ‑Ribose
300 mg
Bee pollen
250 mg
Siberian ginseng (Eleutherococcus senticosus) root extract, 0.8% eleutherosides
100 mg
N,N‑Dimethylglycine hydrochloride
35 mg
Astragalus (Astralagus membranaceus) root extract, 16% polysaccharides
20 mg
Red ginseng (Panax ginseng) leaf and root extract, 20% ginsenosides
10 mg
Other ingredient:

 

Licorice (Glycyrrhiza

 

spp.) root extract, 10% glycyrrhizinic acid (25 mg); vegetable stearic acid; microcrystalline cellulose; vegetable magnesium stearate; and silicon dioxide in a non‑GMO vegetable capsule composed of vegetable carbohydrate gum and purified water.