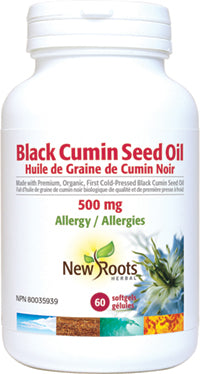 New Roots - Black Cumin Seed Oil
Our Black Cumin Seed Oil yields a high dose of thymoquinone, one of the actives in black cumin seed oil, and is indicated for reducing the symptoms of allergies.
New Roots Herbal's pure Black Cumin Seed Oil can provide the measure of relief that today's allergy sufferers require.
Black cumin seed oil originates back over 3,400 years! Russians call it "chernushka"; it is "faux Anis" in France, "happa sooda" in Oman, "gentle love of the mist" in North America, and "Roman coriander" in Rome. Nigella sativa and its black seed are known by other names, varying between places. Black cumin seed oil has been and is still used for numerous health and beauty reasons, in dozens of countries throughout the world.
An annual herbaceous plant, black cumin (Nigella sativa) is believed to be indigenous to the Mediterranean region, but has been cultivated in other parts of the world including the Arabian peninsula, northern Africa, and parts of Asia. Tiny and hairy, being no more than 3 mm in length, black cumin originates from the common fennel flower plant of the buttercup (Ranunculaceae) family. Nigella sativa is sometimes mistakenly confused with the fennel herb plant (Foeniculum vulgare).
Within institutes worldwide, black cumin seed oil is being studied as new therapies for chronic illness and their effects. Findings are identical to those in previous studies by earlier researchers. Studies show that by using black cumin seed oil, valuable unsaturated fatty acids, for example linoleic and gamma-linolenic acids, get into the organism. This allows a synthesis of important immune-regulating substances derived from prostaglandin E1. Linoleic acid stabilizes the cell membranes, and prostaglandin has the effect of inhibiting inflammation. Thus the immune reactions are stopped, reducing the symptoms of allergies such as hay fever. In addition, the excessive T9‑cell activity of the person suffering from allergies is stabilized through the substance found in black cumin seed oil, as are the abnormally rising immune reactions through suppressed antibodies.
Studies also testify that weak immune systems be regulated by the strong effect of the black cumin seed oil. Scientists have tested the effects of the oil on 600 patients, with results that confirm the relief for allergies at about 70% of the patients. Among them were allergies against pollen and dust, etc., who generally have a weak resistance and are prone to suffer from infections.
DIRECTIONS OF USE
Adults: Take 2 softgels three times daily with food or as directed by your health-care practitioner. If you are taking supplements containing iron, zinc, calcium, or copper, take this product a few hours before or after them.
Duration of use: Consult a health-care practitioner for use beyond 4 weeks.
WARNINGS
Contains no: Gluten, soy, wheat, corn, eggs, dairy, yeast, citrus, preservatives, artificial flavour or colour, starch, or sugar.
Cautions and warnings: Consult a health-care practitioner prior to use if you have a known immune disorder, if you have hypertension or hypotension, and/or if you are taking antihypertensive agents. Discontinue use if you experience gastrointestinal upset. Discontinue use and consult a health-care practitioner if symptoms persist or worsen.
Contraindications: Do not take if you are pregnant, breast-feeding, or trying to conceive.
Known adverse reactions: May cause gastrointestinal upset when taken on an empty stomach.
Store in a cool, dry place, away from heat and sunlight. Do not use if seal is broken. Keep out of reach of children.
INGREDIENTS
Each softgel contains:
Organic

 

black cumin (Nigella sativa) seed oil, 50% linoleic acid, 20% oleic acid, hexane-free
500 mg
Other ingredients:

 

Natural vitamin E (mixed tocopherols from sunflower) in a softgel composed of bovine gelatin, glycerin, and purified water.