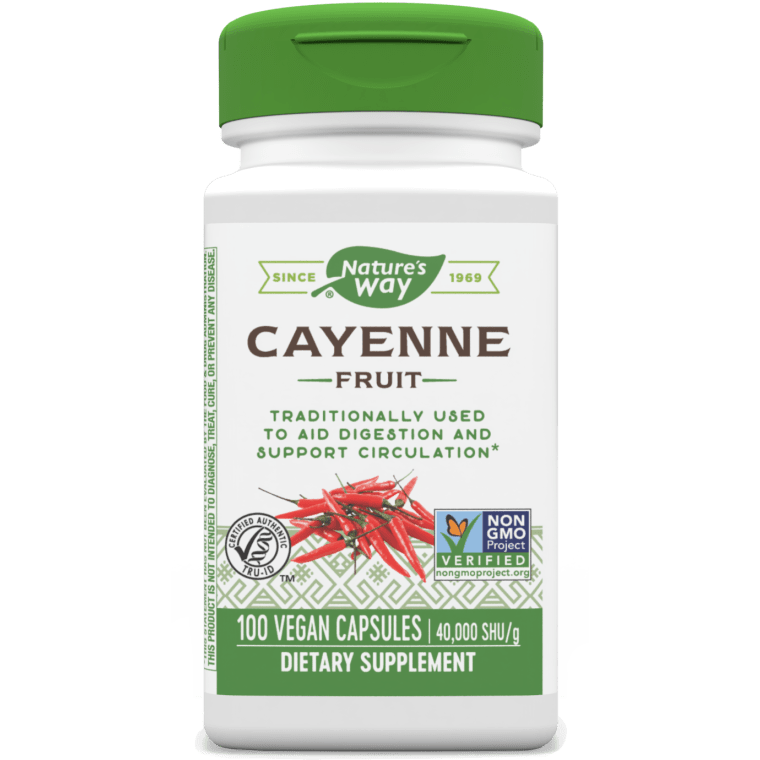 Nature's Way -Cayenne
RADITIONALLY USED TO AID DIGESTION AND SUPPORT CIRCULATION*
Cayenne is more than a go-to ingredient for your spiciest dishes. Cayenne has been traditionally used for a variety of purposes. These spicy red peppers contain capsaicin, which makes them taste "hot." Nature's Way Cayenne Fruit was inspired by these traditional uses and is used to aid digestion and support circulation.*
TRADITIONALLY USED TO AID DIGESTION AND SUPPORT CIRCULATION*
Cayenne has been used for centuries. Our formula helps aid digestion and support circulation.*
UNCOMPROMISING QUALITY
Cayenne Fruit is Non-GMO Project Verified and TRU-ID Authenticated, so you can rest assured that what's on the label is what's in your bottle, every time.
RESPONSIBLE PACKAGING
We give back to the earth that gives us so much. This bottle is made from 97% post-consumer recycled materials. Help us protect this place we call home and recycle your bottle.