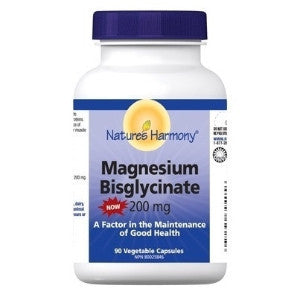 Nature's Harmony Magnesium Bisglycinate
Nature's Harmony Magnesium Bisglycinate
Magnesium Bisglycinate is one of the best absorbed magnesium on the market. It helps with many functions in the body. Magnesium bisglycinate is one of the most easily absorbed forms of magnesium because it is not dependent on stomach acid for absorption.
Recommended Dose (Adults): Take 1 capsule daily.

Medicinal Ingredients (per capsule): Magnesium (magnesium bisglycinate, magnesium citrate)  200 mg

Non-medicinal Ingredients: Cellulose, magnesium stearate, silicon dioxide, hypromellose.
This product does not contain corn, dairy, egg, gluten, shellfish, soy, sulfites, animal derivatives or artificial colours, flavours or preservatives.