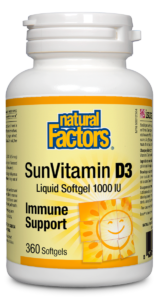 Natural Factors - Vitamin D3 (1000IU)
Supports healthy immune system function
Aids in the normal development and maintenance of bones and teeth
Helps reduce the risk of developing osteoporosis when combined with adequate calcium, a healthy diet, and regular exercise
Overview
Vitamin D is the sunshine vitamin, which the body creates when skin is exposed to ultraviolet light. It is essential for immune function, calcium absorption, building and maintaining strong bones and teeth, and overall health. Many individuals lack sufficient vitamin D, and vitamin D supplementation is widely recommended throughout life.
Medicinal Ingredients
| | |
| --- | --- |
| Each softgel contains: | |
| Vitamin D3 (cholecalciferol) | 1000 IU (25 mcg) |
Non-Medicinal Ingredients
Softgel (gelatin, glycerin, purified water), organic flaxseed oil.
Suggested Use
Helps maintain/support immune function for maintaining general health. Helps in the absorption and use of calcium and phosphorus, in the normal development and maintenance of bones and teeth, and in preventing vitamin D deficiency. Calcium intake, when combined with sufficient vitamin D, a healthy diet, and regular exercise, may reduce the risk of developing osteoporosis. A factor in the maintenance of good health.