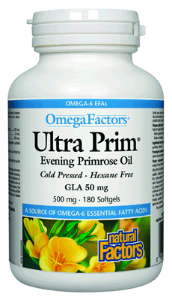 Natural Factors Ultra Prim (Evening Primrose Oil) 500mg
Feature summary
OmegaFactors Ultra Prim Evening Primrose Oil is naturally cold-pressed, extracted at low temperature without solvents. It is the purest, stabilized form of evening primrose oil. It is a supplemental source of essential fatty acids.

This gentle method crushes the seed to release its nutritional oil, without the application of external heat or harsh solvents such as hexane. Cold-pressing enhances stability and helps preserve the nutritional components of the oil. OmegaFactors Ultra Prim is also ultra-purified to remove any organic residues or impurities, giving you a stable product without preservatives.

Evening primrose oil (EPO) is unique because it is one of the few oils that contains abundant amounts of gamma linolenic acid (GLA), an omega-6 essential fatty acid, vital to health. These essential fatty acids are needed to form important prostaglandins, particularly PGE1, that maintain and regulate vital body functions.

Evening primrose oil has been used to decrease the risk of heart disease by lowering cholesterol, decreasing the risk of blood clots (decreasing platelet aggregation), regulating blood pressure, and maintaining healthy circulation.

Evening primrose oil is often used with success by women experiencing PMS. However, men and women with a wide variety of ailments - cardiovascular disease, respiratory problems, such as asthma, arthritis, eczema and other skin problems (including teenagers with acne) - may benefit from EPO. Recent research shows that EPO may also help children with ADD and ADHD.
Medicinal ingredients
| | |
| --- | --- |
| Each Softgel Contains: | |
| Evening Primrose Oil (Oenothera biennis) (seed) | 500 mg |
| Gamma-linolenic Acid | 50 mg |
| Cis-linoleic Acid | 360 mg |
Non-medicinal ingredients
Softgel (gelatin, glycerin, puri- fied water), vitamin E.