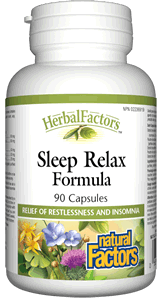 Natural Factors Sleep Relax Formula
Feature summary
Some of the herbs found in the Sleep Relax Formula act as gentle nervous restoratives, calming anxiousness and quieting jangly nerves. Sleep Relax includes a standardized extract of valerian root with calming passion flower, hops, and skullcap.
Valerian is renowned for its calming effect on adults and children alike. The principal active constituent in valerian is the volatile oil. A standardized extract ensures effectiveness as a sedative herb.
Passionflower
"
has been shown to make a non-addictive sedative that relaxes the nervous system. Passion flower seems especially helpful when physical or mental strain results in insomnia or stress."
1

It seems to have a refreshing effect on the nervous system, and it is mild enough to be used for children. Michael Weiner, herbalist and author, suggests that: "
Passiflora incarnata
may be our best tranquilizer yet. The dried leaves and stems both induce a natural sleep and calm hyperactive people... Physicians could well recommend this plant to patients who want to wean themselves from synthetic sleeping pills and tranquilizers."
2

Hops are helpful for nervous disorders, anxious overwrought states, and insomnia. Hops are used for their sedative properties in many European countries.
Skullcap is a nervine tonic and a slow but steady nervous system restorative.
References:
Keville, Kathi: Herbs, An Illustrated Encyclopedia: A Complete Culinary, Cosmetic, Medicinal, and Ornamental Guide, 1994, Michael Friedman Publishing
Weiner, Michael, A. Weiner's Herbal: the Guide to Herb Medicine, 2nd edition, 1990, Quantum Books
Main selling features
Nature's best-known relaxing, calming herbs
Non-addictive sleep support
Potent HerbalFactorsTM standardized extracts
Medicinal ingredients
| | |
| --- | --- |
| Each Capsule Contains: | |
| Valerian 4:1 Extract (Valeriana officinalis) (root) | |
| (Standardized to 0.8% valerenic acid) | 100 mg |
| Skullcap Powder (Scutellaria lateriflora) (aerial) | 100 mg |
| Passion Flower 4:1 Extract | |
| (Passiflora incarnata) (flower) | 50 mg |
| Hops Powder (Humulus lupulus) (flower) | 50 mg |
| Hops 5:1 Extract (Humulus lupulus) (flower) | 25 mg |
Non-medicinal ingredients
Gelatin capsule (gelatin, purified water), rice starch.