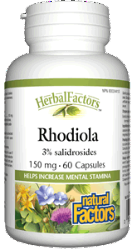 Natural Factors Rhodiola
Feature summary
What stressful situation is coming up for you? A presentation to a critical audience? Another two weeks on night shift? Looming final exams? Or just the relentless pace of life in general? Now is the time to learn about Rhodiola rosea, an incredible, yet very safe, herb that helps you adapt to the stress you are facing, whatever it may be. It helps by increasing your energy, mental clarity, focus and performance, while relieving anxiety and even improving your sex life. If this sounds too good to be true, read on.
Rhodiola is showing itself to be an effective herb that works as an adaptogen (see box) to help us manage stress. It is native to mountainous regions in Asia and Europe and has a centuries-old reputation as a healing herb that combats fatigue and restores energy. Even the Vikings used it. In Siberia, bouquets of rhodiola roots are still given to newly-weds to enhance fertility and ensure the birth of healthy children. Most of the research has been done in the former Soviet Union and Scandinavian countries. Although there are over 200 species, studies show that Rhodiola rosea is the most clinically effective.
How it works
Rhodiola rosea contains chemical compounds called salidrosides and rosavins that promote the release of serotonin, dopamine, and norepinephrine in the brain. The release of these neurotransmitters means that the brain performs better at thinking, analyzing, evaluating, calculating, and planning. Attention, memory, and learning functions are also enhanced, and mental fatigue is reduced. Rhodiola's antioxidant properties may also protect the central nervous system from free radical damage caused by stress.
Adaptogens differ from stimulants in the way they work. Stimulants boost work capacity temporarily, but they deplete dopamine levels in the brain and afterward there is a period of substantially reduced capacity. Adaptogens, such as rhodiola, enhance the energy of brain and muscle cells by raising the metabolism of fats and increasing the number of energy molecules called adenosine triphosphate (ATP). This improves performance and gives a more gradual decline after the peak.
Natural Factors Rhodiola is a concentrated extract, standardized to 3% salidrosides. Natural Factors Rhodiola is made following GMP standards to ensure the highest quality and the correct species – other species of rhodiola are not equivalent to Rhodiola rosea in terms of pharmacological and medicinal properties.
Medicinal ingredients
| | |
| --- | --- |
| Each Capsule Contains: | |
| Rhodiola Extract (Rhodiola rosea) (root) | |
|      (Standardized to 3% salidrosides) | 150 mg |
Non-medicinal ingredients
Microcrystalline cellulose, gelatin capsule (gelatin, purified water), vegetable grade magnesium stearate (lubricant).