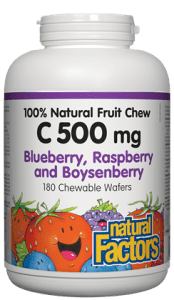 Natural Factors - Natural Fruit Chew C (500mg) Mixed Fruit (180 Chewables)
INGREDIENTS
Medicinal ingredients
| | |
| --- | --- |
| Each Tablet Contains: |   |
| Vitamin C (Sodium Ascorbate/Ascorbic Acid) | 500 mg |
| Citrus Bioflavonoids (Hesperidin) (Citrus limonum, C. sinensis, C. reticulata, C. paradisi, C. aurantifolia) (peel) | 2.8 mg |
| Rosehips (Rosa canina) | 2 mg |
| Rutin (Sophora japonica) (flower bud) | 2 mg |
Non-medicinal ingredients
Dextrose, Fructose, Fruit Flavours (Jungle Juice, Orange, Peach, Blueberry, Mixed Berry, Raspberry, Mango, Passionfruit, Tangerine), Vegetable Grade Magnesium Stearate (Lubricant), Natural Colours (Orange, Red Cabbage, Red Carrot), citric Acid, Silica, Licorice Powder, Orange Peel Powder.
DIETARY NEEDS
Artificial Ingr. Free, Dairy Free, Soy Free, Wheat Free, Yeast Free
CAUTIONS
Consult a health care practitioner prior to use if you are pregnant or breastfeeding. Keep out of reach of children.
Vitamin C is a powerful vitamin with infection-fighting properties, playing a large role in immune system function. Vitamin C is crucial for the formation of collagen, making this vitamin very important for wound repair, healthy gums, strong bones and teeth, and in the prevention of bruising. As a powerful antioxidant, it protects the aqueous areas of the body (including the blood, intracellular fluid and interstitial fluid) from free radicals. Because it is a water-soluble vitamin, the body cannot store vitamin C, making regular supplementation vital. Natural Factors 100% C 500 mg natural fruit chews in blueberry, raspberry, and boysenberry flavours are made with natural fruit flavours and sweeteners. Each easy-to-take wafer also contains citrus bioflavonoids, rosehips, and rutin for added benefits. Bioflavonoids have been shown to improve the absorption and therapeutic action of vitamin C and protect vitamin C from oxidation in the body, allowing the body to reap more benefits from the vitamin. Also known to have a positive impact on the cardiovascular system as well as memory, bioflavonoids increase vitamin C absorption.
BENEFITS
Enhances immune system.
Promotes wound repair.
Builds strong, healthy bones and teeth.
Powerful antioxidant.
Made with all natural sweeteners and flavour.
Gentle on tooth enamel.
DOSAGE
1 wafer daily or as directed by a health care practitioner. Consult a health care practitioner for use beyond 4 weeks.
RECOMMENDED USE
Helps in the development and maintenance of bones, cartilage, teeth, gums and connective tissue formation. A factor in the maintenance of good health. Helps the body metabolize fats and proteins. Helps in would healing. An antioxidant for the maintenance of good health. Helps prevent vitamin c deficiency.