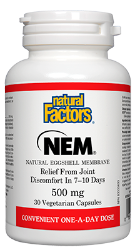 Natural Factors Natural Eggshell Membrane (NEM)
NATURAL FACTORS NATURAL EGGSHELL MEMBRANE FOR ARTHRITIS 
Clinically proven to provide fast relief from joint pain and stiffness in 7–10 days
Provides a full-strength dose of the same NEM formula used in clinical trials
Excellent safety profile with GRAS (Generally Recognized as Safe) certification
A natural source of collagen, glucosamine, chondroitin, hyaluronic acid, and calcium to support joint health
Convenient one-a-day dose
How it works
NEM supports the body's production of type II collagen, which is the main component of the cartilage that covers bones, particularly weight-bearing joints such as the knees and hips, so that they move smoothly without rubbing together. Osteoarthritis is a progressive disorder of the joints caused by the gradual loss of cartilage.
NEM also boosts production of special carbohydrate molecules called glycosaminoglycans (GAGs), including one called chondroitin sulfate. Chondroitin sulfate is another important component of cartilage, providing resistance to compression and contributing to the tensile strength of cartilage, tendons, and ligaments.
NEM contains glucosamine sulfate, which stimulates cells called chondrocytes that form the cartilage in joints. Sulfate (a form of sulphur) is a critical nutrient for halting and reversing osteoarthritis because it supports the synthesis of GAGs in the joints and stimulates cells that produce the synovial fluid that lubricates the joints. Sulfate also binds water inside the cartilage to help it act as a shock absorber. NEM also contains hyaluronic acid, one of the main lubricants found in the synovial fluid.
Natural Factors NEM Natural Eggshell Membrane provides a full-strength dose of natural eggshell membrane to give fast relief from joint pain and stiffness, and to maintain joint health.
Medicinal ingredients
| | |
| --- | --- |
| Each Capsule Contains: | |
| NEM® Natural Eggshell Membrane Powder  | |
|       (Gallus gallus) (eggshell) | 500 mg |
Non-medicinal ingredients
Dibasic calcium phosphate dihydrate, vegetarian capsule (carbohydrate gum [cellulose], purified water), vegetable grade magnesium stearate (lubricant).