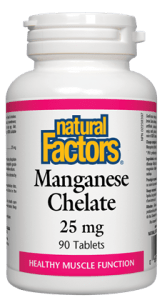 Natural Factors - Manganese Chelate 25mg
Feature summary
Manganese functions in many enzyme systems including enzymes involved in blood sugar control, energy metabolism, and thyroid hormone function. Manganese is needed for healthy skin, bone and cartilage, and it helps to activate superoxide dismutase (SOD), an important antioxidant enzyme. This enzyme is responsible for preventing the deleterious effects of the superoxide free radical from destroying cellular components.

Without SOD cells are quite susceptible to damage and inflammation. Manganese supplementation has been shown to increase SOD activity indicating increased antioxidant activity.

The principle uses of manganese supplementation is in the treatment of diabetes; epilepsy; strains, sprains, and inflammation.

"Your body needs manganese to properly metabolize fat, to build bones and connective tissues, to produce energy, and to make the cholesterol and the genetic proteins (DNA) required for every living cell to be able to divide." Eades, Mary Dan, The Doctor's Complete Guide to Vitamins and Minerals, 1994, The Philip Lief Group, Inc.
Medicinal ingredients
| | |
| --- | --- |
| Each Tablet Contains: | |
| Manganese (HVP* Chelate) | 25 mg |
| * HVP: Hydrolyzed Vegetable Protein | |
Non-medicinal ingredients
Dicalcium phosphate dihydrate, microcrystalline cellulose, vegetable grade magnesium stearate (lubricant), croscarmellose sodium.