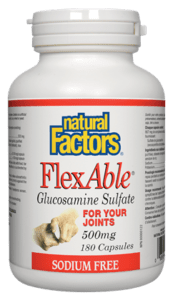 Natural Factors Flexable 500mg
Feature summary
Clinical studies show that supplementing with glucosamine sulfate may stimulate joint repair. FlexAble Glucosamine Sulfate is fully reacted and is made up of a combination of glucose, glutamine and sulphur. It is generally believed that the sulphur component makes it more useful for joint problems.

This formula is sodium free, for those who wish to reduce their sodium intake or people with hypertension.

One common question: Can persons allergic to sulfa drugs or sulfite take glucosamine? Michael Murray, ND responds: "When people say they are allergic to sulphur, what they really mean is they are allergic to the so-called sulfa drugs or sulfite-containing food additives. It is impossible to be allergic to sulphur because sulphur is an essential mineral. The sulfate form of sulphur is present in relatively high concentrations in human blood. In short, glucosamine sulfate is extremely well-tolerated, and no allergic reactions have been reported."
Medicinal ingredients
| | |
| --- | --- |
| 667 mg of stabilized glucosamine sulfate complex providing: | |
| | |
| --- | --- |
| Glucosamine Sulfate (shellfish exoskeletons) | 500 mg |
Non-medicinal ingredients
Gelatin capsule (gelatin, purified water), vegetable grade magnesium stearate (lubricant), rice starch.