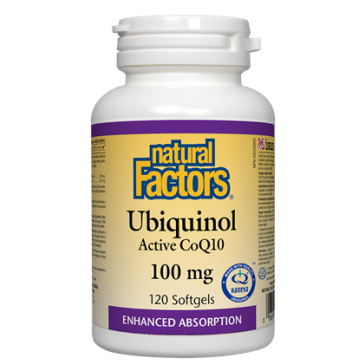 Natural Factors - Coenzyme Q10 100mg
Description
"It is being hailed by scientists as one of the brightest antioxidants around for postponing aging and preventing or treating age-related diseases, namely heart disease. It's unsure how much you need, but it seems certain that taking in more than your body produces may help defeat the ravages of aging and even prolong life. Thus you may be aging far too rapidly because your cells don't get enough coenzyme Q10." - Jean Carper in Stop Aging Now

Coenzyme Q10 (CoQ10) is required by every cell in our body and is key to the chemical reactions that produce cellular energy. An automobile engine with poor spark plugs will sputter and choke with carbon. Like a cellular spark plug, CoQ10 ignites the cell's oxygen to produce energy. If our cells don't burn oxygen properly, damaging compounds such as free radicals (abnormal oxygen molecules) are formed. A misfiring automobile will eventually break down.

Similarly, insufficient CoQ10 will break down our health, resulting in cardiovascular disease, cancer or other degenerative diseases. An antioxidant and free radical quencher, CoQ10 protects us while maintaining cellular energy.

In scientific circles, Coenzyme Q10 is called ubiquinone, derived from ubiquitous, which means "everywhere at the same time". The name is appropriate because every cell in our body requires CoQ10, so it is required for ideal health. However, as we age body stores of CoQ10 diminish and some theorize that reduced CoQ10 might be responsible for poor health and our susceptibility to degenerative diseases as we grow older.

CoQ10 soaks up free radicals with such dispatch that it can take its place next to the other heavyweight antioxidants: vitamins C, E, the carotenoids, and selenium. Just like vitamin E, coenzyme Q10 is particularly good at protecting low-density lipoproteins (the bad cholesterol) from oxidation, a process that contributes to plaque build up in the arteries.

Those using "statin drugs" to lower cholesterol should be aware of their special need to supplement with CoQ10. Statin drugs work by interfering with the liver's manufacture of cholesterol. Unfortunately, they also inhibit the liver's manufacture of CoQ10 at the same time. CoQ10 is critical for muscle energy and function, and the heart and blood vessels involve muscle. Statin drugs may create a severe deficiency of CoQ10, causing side-effects of muscle deterioration, weakness and pain. The solution is to supplement with sufficient CoQ10.
Medicinal ingredients
| | |
| --- | --- |
| Each Softgel Contains: | |
| Coenzyme Q10 Ubiquinone (microorganism) | 100 mg |
Non-medicinal ingredients
Rice bran oil, softgel (gelatin, glycerin, purified water, carob), vitamin E.