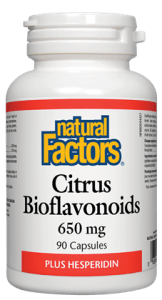 Natural Factors - Citrus Bioflavonoids
Feature summary
Citrus Bioflavonoids plus Hesperidin is derived from citrus fruit peels, which is an abundant source of bioflavonoids. Although hesperidin is part of the bioflavonoid complex, it is so important that extra amounts are added to ensure high levels.
Bioflavonoids are brightly-coloured substances that are found in fruits and vegetables, and are typically a companion to vitamin C. Bioflavonoids are essential for the proper absorption of vitamin C and have been shown to have antioxidant properties, increase capillary strength and keep collagen healthy.
Medicinal ingredients
Each Capsule Contains:
Citrus Bioflavanoids Complex
500 mg
Hesperidin
150 mg
Encapsulated in a gelatin capsule (gelatin, purified water) with vegetable grade magnesium stearate (lubricant).