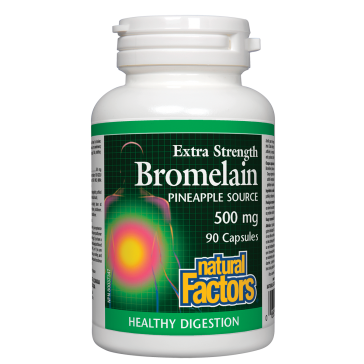 Natural Factors - Bromelain 500mg
Feature summary
Bromelain capsules contain 500 mg of this proteolytic enzyme isolated from the stem of the pineapple plant. Bromelain is a good substitute for the enzymes pepsin and trypsin.

Digestive enzymes can do more than aid digestion. Because they are so efficient at breaking down protein, carbohydrates, and fats, they are able to stimulate the good bacteria in the gut, detoxify and cleanse the colon, and therefore improve a number of digestion-related conditions, including food and other allergies. They help to mobilize and expel harmful products from the body. This process occurs at the cellular level, in organs, and in various systems of the body.

GDU (gelatin digesting units) and MCU (milk clotting units) are two standard ways to measure enzyme activity. The measurement of activity is based on how much one gram of the enzyme will digest. Usually the two measurements are in a 2:3 ratio. The higher the number of GDU's and MCU's, the greater the enzyme activity of the product.
Bromelain can be purchased in strengths ranging from 80 GDU/120 MCU to 1,000 GDU/1,500 MCU. A product with only 80 GDU/120 MCU is twelve time less potent that a product with 1,000 GDU/1,500 MCU.

This product uses extra strength bromelain, 1,000 GDU and 1,500 MCU of enzyme activity per gram, one of the most potent and effective strengths available.
Medicinal ingredients
Each Capsule Contains:
Bromelain (Ananas comosus) (stem)
500 mg
Each gram of extra strength Bromelain contains
1000 GDU (Gelatin Digesting Units) equivalent to
1500 MCU (Milk Clotting Units) of enzyme activity.
Non-medicinal ingredients
Gelatin capsule (gelatin, purified water), vegetable grade magnesium stearate (lubricant).