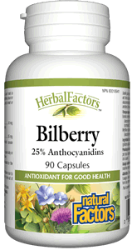 Natural Factors Bilberry
Feature summary
Bilberry (Vaccinium myrtillus) is the European cousin to the blueberry and contains active ingredients that support vision. It was frequently used by World War II RAF pilots to enhance night vision.

Studies with bilberry show that it helps eyes adapt to the dark, especially after prolonged exposure to bright light and improves visual acuity in dim light. The active ingredients in bilberry, anthocyanosides, are a group of flavonoids that increase the production and integrity of collagen, a protein that forms connective tissue in the body. Bilberry is also used to treat artery, vein and capillary disorders. Bilberry extract has become the leading herbal prescription for the maintenance of healthy vision and for the treatment of many eye diseases.
How it works
The active constituents in bilberry can be traced to a group of flavonoids called anthocyanosides. The anthocyanosides increase the production and integrity of collagen, a protein necessary to connective tissue. Collagen, which is also the most abundant protein in the body, maintains the integrity of tendons, bones, cartilage, and ligaments. Inflammatory diseases such as rheumatoid arthritis and periodontal disease destroy collagen. Bilberry's anthocyanosides have the remarkable ability to crosslink collagen fibres which reinforces the collagen matrix of connective tissue.

Among their other benefits, bilberry anthocyanosides are powerful antioxidants which prevent free radical damage.

Any substance that strengthens and increases the production of collagen and is a potent antioxidant will be useful in the treatment of inflammatory joint conditions such as rheumatoid arthritis. These exciting discoveries have profound implications for many ailments.
Medicinal ingredients
| | |
| --- | --- |
| Each Capsule Contains: | |
| Bilberry Extract | |
| (Vaccinium myrtillus) (fruit) | 40 mg |
| (Standardized to 25% Anthocyanidins) | |
| Bilberry 5:1 Powder | |
| (Vaccinium myrtillus) (fruit) | 305 mg |
Non-medicinal ingredients
Gelatin capsule (gelatin, purified water).