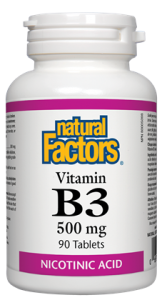 Natural Factors - B3 Niacin
Niacin is essential for metabolism of fats, proteins, and carbohydrates. It has a significant effect on blood cholesterol levels when taken in large amounts, and it is believed to be able to prevent cholesterol in the liver from secreting into the circulatory system. Niacin also increases your body's level of lipoproteins, known as the "good cholesterol" and is a powerful preventative for cardiovascular disease, hypercholesterolemia, atherosclerosis.
Niacin is necessary for protein metabolism, energy production and normal nervous system function. It may also help regulate blood sugar, and is required for the production of the adrenal and sex hormones. Niacin has a strong effect on the circulatory system causing some people to experience flushing, a sensation of heat and reddening.
Directions: 1 tablet, 1-5 times per day, or as directed by a health professional.