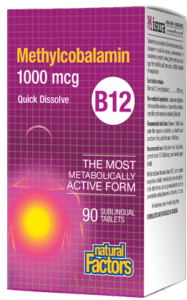 Natural Factors B12 1000/5000/10000mcg Sublingual Methylcobalamin
Feature summary
Vitamin B12 is a water-soluble vitamin necessary for energy production; for nervous system function as it is needed to produce myelin, the fatty substance that forms a protective sheath around nerves; for the production of acetylcholine, a neurotransmitter that helps with memory and learning; for the synthesis of red blood cells; for producing the genetic materials, DNA and RNA. It can help depression and give you energy. Most vitamin B12 comes from animal source foods and is deficient in strict vegetarian diets.

Vitamin B12 works with folic acid to control homocysteine levels. Research shows that high levels of homocysteine may dramatically increase the risk of heart disease and stroke. However, many of us may not be absorbing the vitamin B12 as effectively from food as we could and others, such as vegetarians, may develop outright deficiencies in this important vitamin. Studies show that supplemental vitamin B12 can help us in other ways, too.

Many elderly people suffering from neurological impairment find that B12 supplementation greatly improves their cognitive function. Published studies show that vitamin B12 in supplement form is absorbed better by elderly people than vitamin B12 that is bound to food.

Shift workers, too, can benefit from sublingual methylcobalamin. It's well established that shift workers have more trouble falling asleep and staying asleep. Poor sleep quality is probably why they have greater susceptibility to illnesses, including cancer, and have more accidents than other sectors of the population.

In a recent study, subjects taking methylcobalamin experience improved sleep quality and increased daytime alertness and concentration, and in some cases they also reported improved mood. Much of the benefit appears to be a result of methylcobalamin's influence on melatonin secretion and resetting the biological clock. Specifically, methylcobalamin causes a significant decrease in daytime melatonin levels while increasing nighttime levels.

B12 methylcobalamin makes adrenaline from norepinephrine, and melatonin from serotonin. It is crucial for the transcription of DNA, and other entities. To convert harmful homocysteine into the beneficial antioxidant, methionine, a methyl group is required. Methylcobalamin provides it thereby protecting your cardiac system.
Medicinal ingredients
| | |
| --- | --- |
| Each Tablet Contains: | |
| Vitamin B12 (Methylcobalamin) | 1000 mcg |
Non-medicinal ingredients
Lactose, microcrystalline cellulose, croscarmellose sodium, vegetable grade magnesium stearate (lubricant).