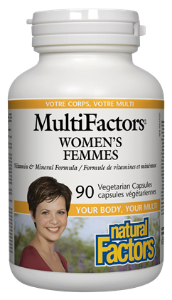 Natural Factors - Multifactors Women's Multivitamin
This women's formula contains optimum levels of over 35 vitamins, minerals, enzymes, antioxidants and herbal extracts in just three easy-to-swallow vegetarian capsules per day. It is made from the highest quality ingredients and contains the proper ratios of vitamins, minerals and nutrients to energize, provide relief from stress, protect against organ degeneration, and aid in the prevention of chronic disease. In addition, it contains betaine hydrochloride (HCL) and a digestive enzyme blend to help maximize absorption. Betaine HCL helps compensate for low stomach acid production, something traditionally seen among the elderly but becoming increasingly common in younger people.
The hormonal problems encountered by women experiencing PMS, perimenopause or menopause centre around excess estrogen. Estrogen dominance can also make women more susceptible to breast cancer and other hormone-dependent cancers. This formula has indole-3-carbinol, a powerful phytonutrient derived from broccoli and cruciferous vegetables which positively affects estrogen metabolism and is believed useful for preventing and treating breast and other cancers. Indole-3-carbinol activates detoxification enzymes in the intestinal tract, binds to chemical carcinogens, rendering them inactive, and improves estrogen balance, thus reducing the risk of breast cancer.
Main features:

Optimum levels of vitamins, minerals, and antioxidants
Herbal extracts included for increased energy and well-being
Complete with cranberry for urinary tract support
Digestive enzyme blend for maximized absorption
BerryRich to limit inflammation
Vegetarian capsules free of GMOs, yeast, and gluten