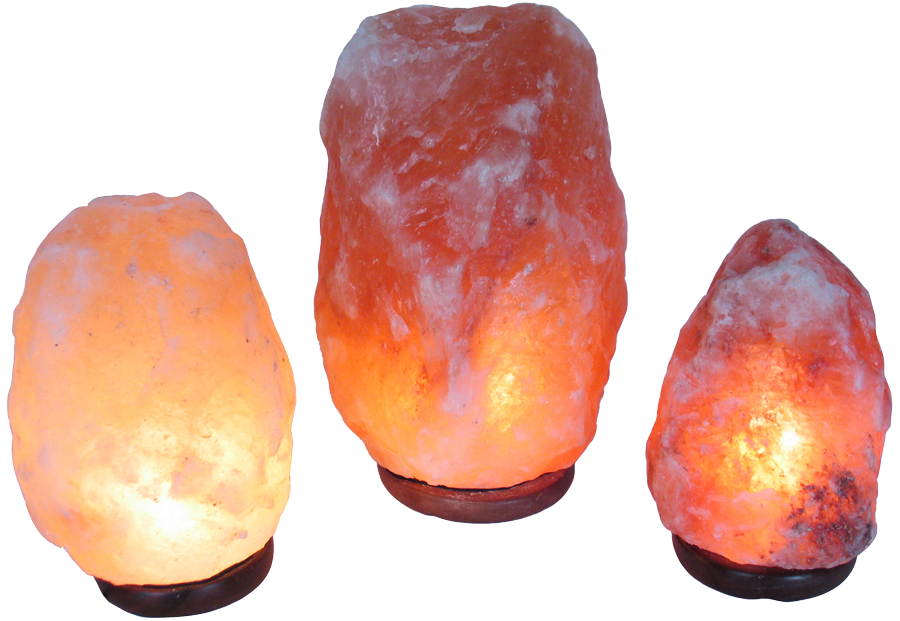 Lumière de Sel® "Natural Shape" Himalayan Crystal Salt Lamps - IN STORE ONLY
IN STORE ONLY.
Each Natural Salt Lamp is handcrafted, and mounted on a wooden base. The Natural Salt Lamps are available in sizes from 2.5 kg to 30 kg and include an electrical cord and bulb. Due to its natural formation, each lamp is a uniquely beautiful combination of pink, orange and white – no two are the same!
Benefits of Salt Lamps:
Helps clean and purify the air
Reduces electro-magnetic pollution
Known to improve mood and concentration
Helpful for asthma and upper respiratory problems
Has a soothing and calming effect
Helps alleviate feelings of depression
Reduces fatigue
Assists with natural healing processes
Ionization effects:
| | |
| --- | --- |
| 2.0 – 3.5 kg | Affects area 0.5-1.5 meter in diameter |
| 3.5 – 6.0 kg | Affects area 1.5-2.0 meter in diameter |
| 6.0 – 9.5 kg | Affects area 2.0-2.5 meter in diameter |
| 10 -12.5 kg | Affects area 2.5-3.0 meter in diameter |
| 12.5 – 18 kg | Affects area 3.0-4.5 meter in diameter |
| 18 – 24 kg | Affects area 4.5-5.5 meter in diameter |
| 24 – 30 kg | Affects area 5.5-7.0 meter in diameter |
How They Work
These Salt Crystal Lamps are ethically harvested from the geological range of the Himalayan Mountains, where salt deposits were formed millions of years ago. Each lamp is handcrafted with care, resulting in its unique and beautiful form.
These lamps naturally produce negative ions, which help clean and purify the air. Ions are small electrically charged particles contained in the air we breathe. Other natural ion producers are trees and waterfalls. These lamps are helpful for people suffering from asthma and/or upper respiratory problems by reducing the amount of airborne bacteria and dust.
Also, in today's society we are bombarded with electromagnetic frequencies from televisions, microwaves and computer monitors. These producers of electromagnetic fields create excessive amounts of positive ions that can be neutralized by the negative ions emanating from the lamps. As well, the soothing colours of the lamps can have a positive effect on the body and mind. Thanks to scientific research, it is well established that salt crystal lamps have biophysical characteristics with a positive effect on our wellbeing.


Air Purifiers
Heated salt crystal lamps can be referred to as natural ion generators. Depending upon size and surface area of the salt crystal used for the lamp, the ambient air surrounding it is measurably cleaned by the transformation cycle of hydrogen and oxygen, as well as sodium and chloride ions.
Neutralizes Excess Positive Ions
The crystal lamp binds the negative ions with excess positive ions. When the lamp becomes warm, it absorbs moisture and the crystal will be damp on the surface. This builds up the ion field. The positively charged atmosphere of a room can be neutralized using this kind of lamp.
 Salt Lamps are Suitable for:
Homes
All Bedrooms
Living & Family Rooms
Home Offices
 Commercial Buildings

Wellness Clinics
Doctor & Chiropractic Offices
Yoga Studios & Massage Centres
Not suitable for humid areas such as bathrooms and laundry rooms.
 Salt Lamp Care
Salt Crystal Lamps should not be used in rooms with excessive humidity, or outdoors. If exposed to dampness, leave the lamp lit for several hours to emit the surface humidity, and then remove any powdery material with a dry cloth. If the lamp does show signs of dampness, turn on the lamp or light the candle to dry them out. Ensure first that any electrical parts are dry before using the lamp.
Regularly wipe the dust off the lamp using a slightly damp cloth, or a soft brush. Always unplug the lamp before changing the light bulb for safety. The bulb may be changed by pinching the sides of the insert and withdrawing the light fitting from the base. Tea-light Holders can be replaced from the top of the Tea-light Holders.
Warning: In order to avoid scratches or salt deposits during humid conditions, do not place your Salt Lamp or your Salt Tea-light Holder directly on valuable furniture. You should instead place it on a waterproof base – a coaster or decorative plate – until you know how the lamp is going to react to the room. Do not use outdoors or in other humid environments