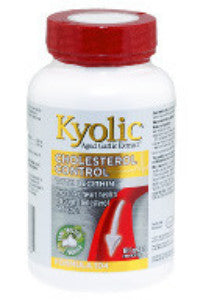 Kyolic - Cholesterol Control Formula 104 with Lecithin
Each easy-to-swallow capsule of Kyolic® Aged Garlic Extract™ Formula 104 contains 300 mg of Aged Garlic Extract™ (Allium Sativum) bulb and 190 mg of lecithin derived from organic soybean oil. This product does not contain any artificial preservatives, colours, or flavours, or milk products, wheat, yeast, sugar, or starch.
Recommended Use
For the maintenance of healthy cholesterol and homocysteine levels.
Recommended Dose:
Adults take 2 capsules twice daily with a meal, or as directed by a health care practitioner.