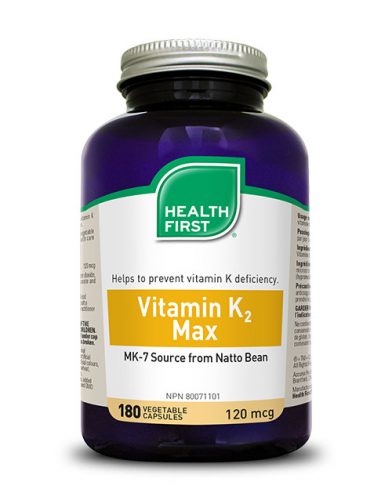 Health First Vitamin K2 Max
Recommended use:
helps to prevent vitamin K deficiency. Helps in the maintenance of bones. Superior fermented form contains the preferred form of K2, MK-7 (menaquinone-7) from natural natto beans. Natto beans are soybeans that have been fermented with the bacteria Bacillus subtilis, producing nature's richest source of vitamin K2. This form of K2 is more absorbable and longer-lasting than synthetic forms.
Recommended dose: 
Each vegetable capsule contains: Vitamin K2 (MK-7 from natto bean) 120mcg
Non-medical ingredients: Colloidal silicon dioxide, microcrystalline cellulose, magnesium stearate and vegetable capsule (hypromellose).
Cautions and warnings: if you are taking blood thinners, consult and health care practitioner prior to use. 
Free from: animal derivatives, artificial flavours, artificial colours, corn, gluten, wheat, lactose, dairy, preservatives, added sugar, yeast and GMO materials.