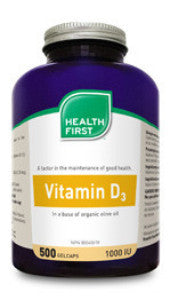 Health First Vitamin D3
Natural Product Number (NPN): 80040618
Product Brief: A factor in the maintenance of good health. Helps in the development and maintenance of bones and teeth.
Recommended dosage:
Adults (19 years and older), adolescents (14-18), and children (8-13): Take 1 capsule once a day.
Each gelcap contains:
Vitamin D3 (cholecalciferol) 1000 IU/ 25 mcg
Non-medicinal ingredients:
Organic olive oil, gelatin (bovine), glycerin, purified water.
Free from: artificial colour, artificial flavour, gluten, wheat, lactose, dairy, preservatives, soy, added sugar and yeast.