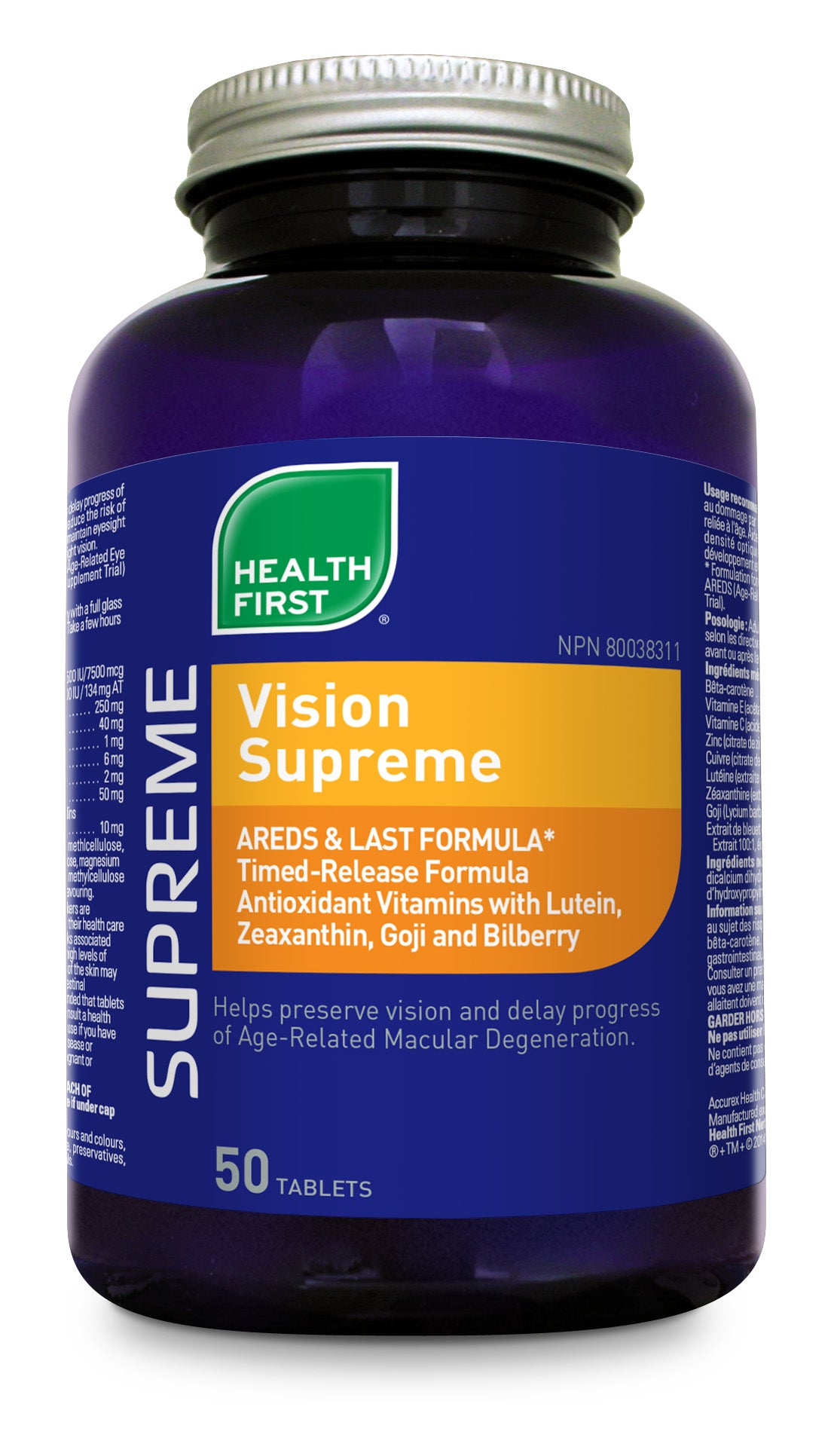 Health First Vision Supreme
Natural Product Number (NPN): 80038311
Product Brief:
Helps preserve vision. Helps delay progress of Age-Related Macular Degeneration. Helps to reduce the risk of developing cataracts.  Source of Vitamin A to help maintain eyesight and help in the development and maintenance of night vision.
*Formula based on the potencies of the AREDS (Age-Related Eye Disease Study) and LAST (Lutein Antioxidant Supplement Trial) clinical trials.
Medicinal ingredients:
Each tablet contains:
Beta carotene 12,500 IU/7500 mcg
Vitamin E (d'alpha tocopheryl acetate) 200 IU / 134 mg AT
Vitamin C (ascorbic acid) 250 mg
Zinc (zinc citrate) 40 mg
Copper (copper citrate) 1 mg
Lutein (from marigold flower – Tagetes erecta) 6 mg
Zeaxanthin (from marigold flower – Tagetes erecta) 2 mg
Goji Berry (Lycium barbarum) 50 mg
Bilberry fruit (Vaccinium myrtillus) 25% anthocyanidins
100:1 extract, equivalent to 1000 mg 10 mg
Non-medicinal ingredients:
Hydroxypropyl methlcellulose, dicalcium phosphate dihydrate, microcrystalline cellulose, magnesium stearate, hydroxypropyl methylcellulose coating, natural vanilla flavouring.
Directions:
Adults take one to two tablets daily with a full glass of water or as directed by a health care practitioner. Take a few hours before or after taking other medications.
Risk Information:
Smokers are recommended to consult their health care practitioner about the risks associated with smoking and using high levels of beta carotene.Yellowing of the skin may occur. To avoid gastrointestinal symptoms it is recommended that tablets be taken with a meal. Consult a health care practitioner prior to use if you have cancer, cardiovascular disease or diabetes or if you are pregnant or breastfeeding.
Free from: artificial flavours and colours, gluten, wheat, lactose, preservatives, yeast and GMO materials.