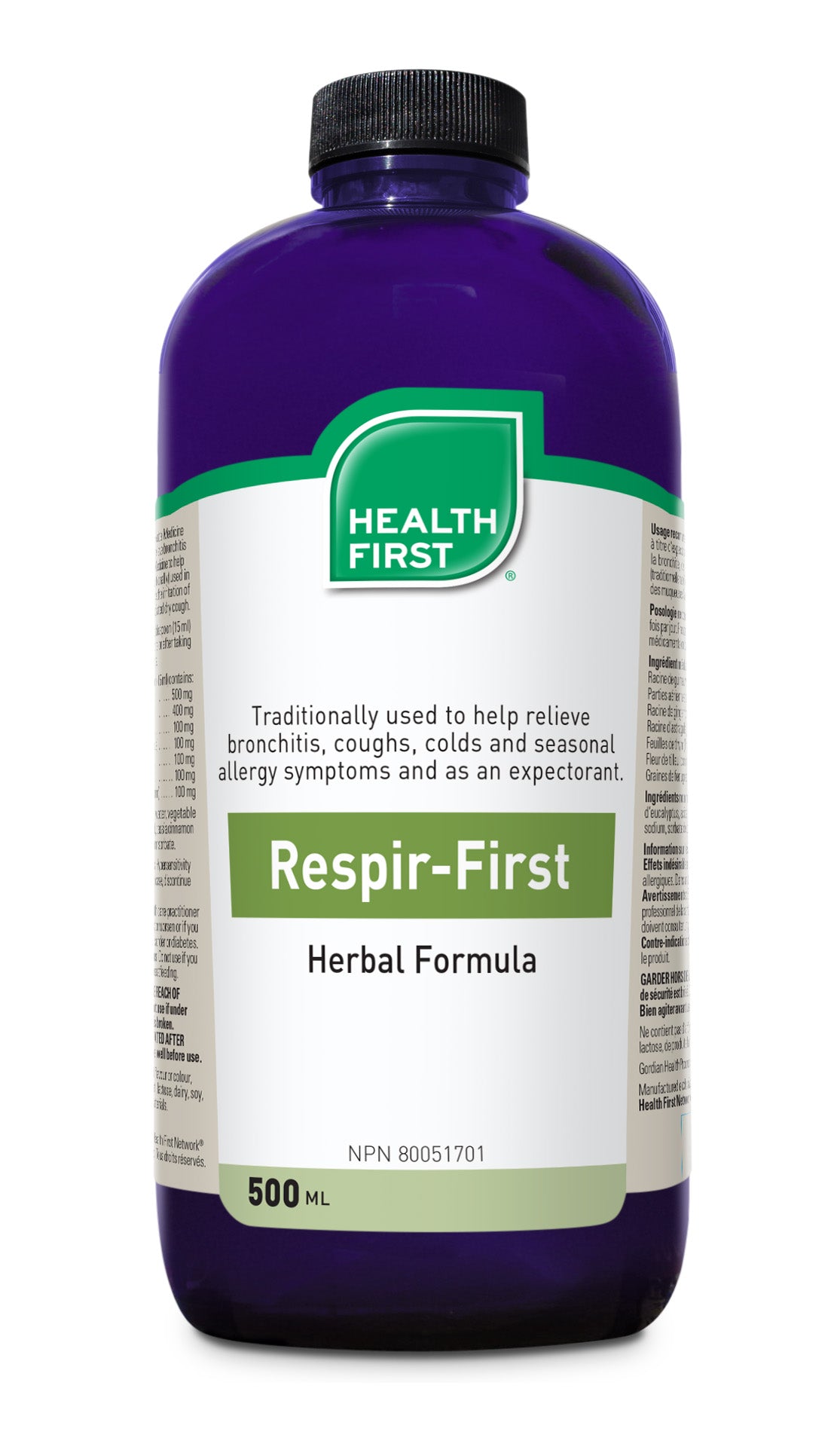 Health First Respir-First
Natural Product Number (NPN): 80051701
Product Brief:
Traditionally used in Herbal Medicine as an expectorant and anti-tussive to help relieve bronchitis as well as coughs and colds. Used in Herbal Medicine to help relieve seasonal allergy symptoms. (Traditionally) used in Herbal Medicine (as a demulcent) to relieve the irritation of the oral and pharyngeal mucosa and associated dry cough.
Recommended dose:  Adults take 1 tablespoon (15 ml) three times per day. Take a few hours before or after taking other medication or natural health prdoucts.
Medicinal ingredients:
Each tablespoon (15 ml) contains:
Marshmallow root (Althaea officinalis) 500 mg
Nettle herb top (Urtica dioica) 400 mg
Ginger root (Zingiber officinale) 100 mg
Astragalus root (Astragalus membranaceus) 100 mg
Thyme leaf (Thymus vulgaris) 100 mg
Linden flower (Tilia x europaea) 100 mg
Fenugreek seed (Trigonelia foenum-graecum) 100 mg
Non-medicinal ingredients:
Purified water, vegetable glycerin, honey, eucalyptus flavor, citric acid, cassia cinnamon bark, clove, sodium benzoate and potassium sorbate.
Risk information:
Known adverse reactions: Hypersensitivity and/or an allergy are known to occur; in which case, discontinue use.
Cautions and warnings: Consult a health care practitioner if symptoms persist or worsen or if you have an immune disorder or diabetes.
Contra-indications: Do not use if you are pregnant or breastfeeding.
Free from: artificial flavour or colour, corn, gluten, wheat, lactose, dairy, soy, yeast and GMO materials