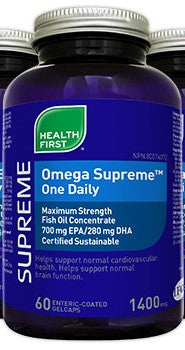 Health First Omega Supreme one daily
Recommended use: helps support normal cardiovascular health. Helps support normal blood triglyceride/triacyglycerol levels. Helps support normal brain function. Helps support eye health. Source of eicosapentaenoic (EPA) and docosahexaenoic acid (DHA) for the maintenance of good health.  Source of antioxidants. 
Recommended dose: Adults (support cardiovascular health, eye health, and normal brain function): take 1 gelcap daily. Adults (support normal triglyceride/triaclyglycerollevels): take 1 gelcap, 3 times daily.
Medicinal Ingredients:  
Fish oil (from non-farmed anchovy, sardine, and mackerel): 1400mg
Total Omega-3 fatty acids: 1,120mg
EPA: 700mg
DHA: 280mg
Olive oil, cold pressed: 5mg
Non-medicinal ingredients: vitamin e (d-alpha tocopherol) from sunflower, natural lemon oil flavour, rosemary oleoresin extract, ascorbyl palmitate, shellac, sodium alginate, sodium lecithin, medium chain triglycerides, stearic acid, bovine gelatin, vegetable glycerin, purified water. 
Free from: artificial colours, artificial flavours, gluten, wheat, lactose, dairy, preservatives, added, sugar, yeast, and GMO materials.