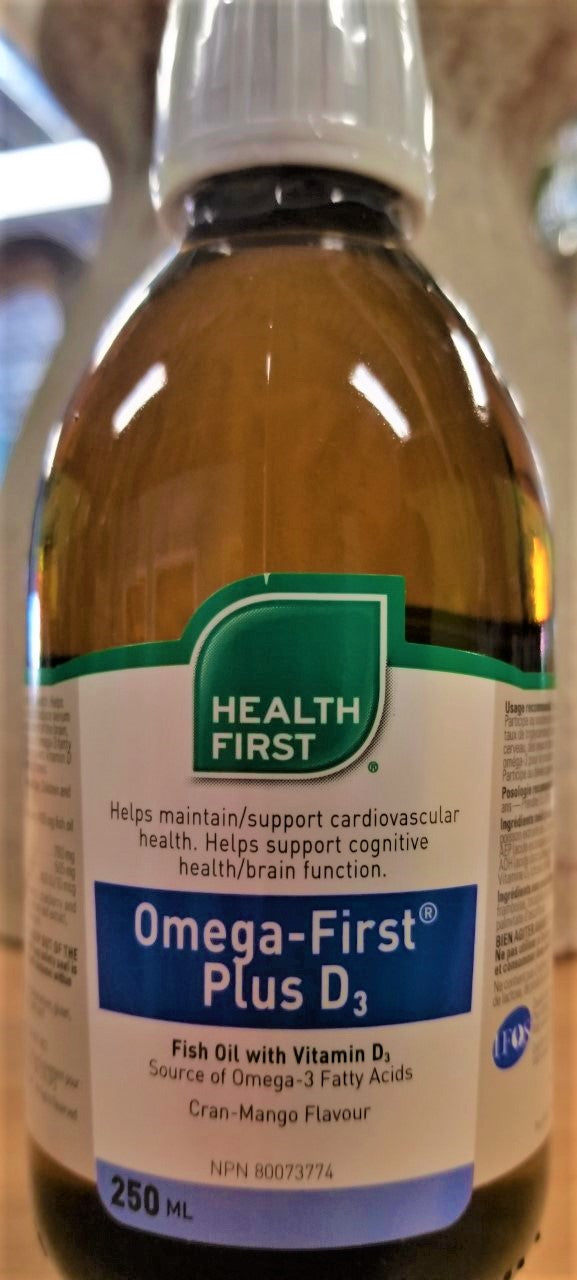 Health First Omega First plus D Cran-Mango
Recommended use: helps maintain/support cardiovascular health. Helps support cognitive health and/or brain function. Helps to reduce serum triglycerides/triacylglycerols.  Helps support the development of the brain, eyes, and nerves in children up to 12 years of age. Source of omega-3 fatty acids for the maintenance of good health. Helps to prevent vitamin D deficiency. Helps in the development and maintenance of bones. 
Recommended dose: Adults: take 1 to 2 teaspoons per day.  Children and adolescents (1-18): take 1 teaspoon per day. 
Medicinal ingredients: Each 5ml teaspoon (containing 4400 mg fish oil from Clupeidae, Engraulidae, Scombridae):
EPA: 760mg
DHA: 505mg
Vitamin D3(cholecalciferol): 400IU/10mcg
Non-medicinal ingredients: Natural orange, mango, cranberry and raspberry flavors, mixed tocopherols, rosemary leaf extract, momordica (monk fruit), ascorbyl palmitate.
Free from artificial colours, flavours, and preservatives, gluten, wheat, lactose, dairy, added sugar, yeast, and GMO materials.