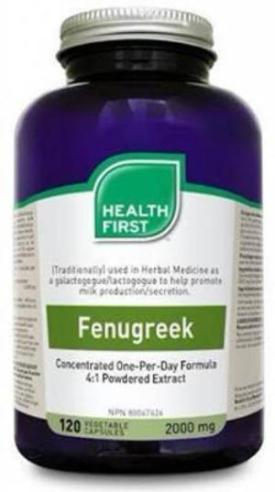 Health First Fenugreek
Natural Product Number (NPN): 80047626
Product Brief:
Traditionally used in Herbal Medicine as a galactogogue/lactogogue to help promote milk production/secretion. Used in Herbal Medicine as supportive therapy for the promotion of healthy glucose levels. Also used as a digestive tonic to aid digestion. Acts as an expectorant to help relieve excess mucous of the upper respiratory passages (anti-catarrhal). Used in Herbal Medicine to help reduce elevated blood lipid levels/hyperlipidemia.
Recommended dose: Adults (≥ 19 years): Take 1-2 capsules per day or as directed by a health care practitioner.
Medicinal ingredients:
Each vegetable capsule contains:
Fenugreek seed (Trigonella foenum-graecum L.)                2,000 mg
(500 mg of 4:1 extract)
Non-medicinal ingredients: Microcrystalline cellulose, colloidal silicon dioxide, magnesium stearate (vegetable source), hypromellose.