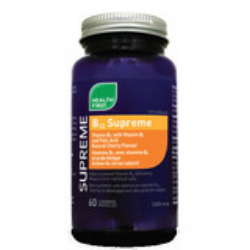 Health First B12 Supreme
Natural Product Number (NPN): 80044648
Product Brief:
Helps to prevent vitamin B12 deficiency. Helps to form red blood cells. Helps the body to metabolize carbohydrates, fats and proteins. Helps in tissue formation.
Recommended dosage:
Adults (19 years and older): Take 1 lozenge once a day. Take with food.
Medicinal ingredients:
Each lozenge contains:
Vitamin B12 (methylcobalamin) 1200 mcg
Vitamin B6 (pyridoxine) 2.5 mg
Folic acid 400 mcg
Non-medicinal ingredients: Magnesium stearate, natural cherry flavour, sorbitol, xylitol, dextrates, citric acid
Free from: artificial colours, artificial flavours , gluten, wheat, lactose, dairy, preservatives, soy, added sugar, yeast and GMO materials.
Suitable for vegetarians.