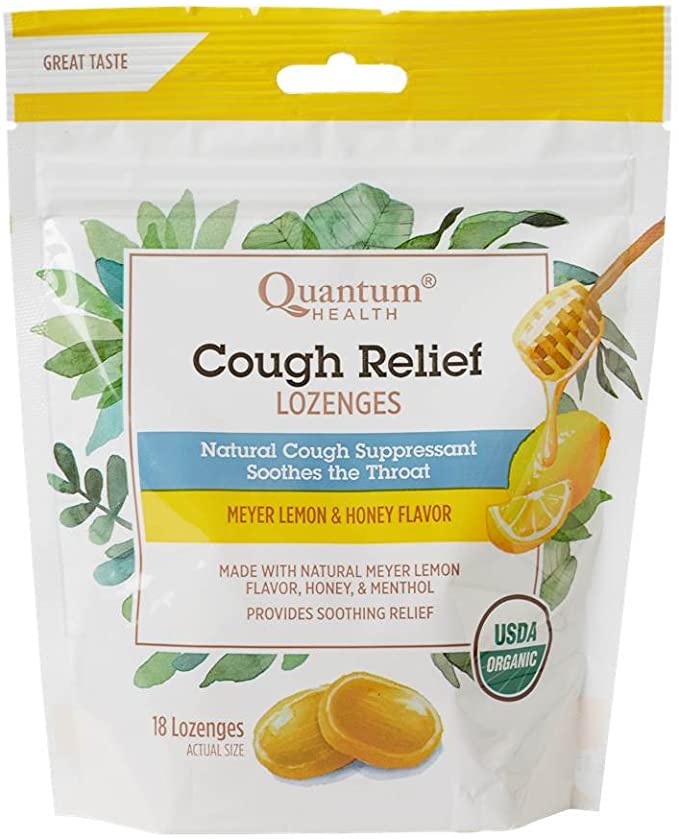 Quantum - Cough Relief Lozenge (Lemon & Honey)
Make sure you always have Quantum Health® Cough Relief Lozenges handy or on order during winter months, back-to-school season, and any other time of seasonal immune challenge. Experience throat soothing and cough quieting comfort with our USDA Organic drop product made from the highest quality ingredients.
The Bing Cherry flavor comes from real Bing cherry juice. Meyer Lemon with Honey lozenges rely on the distinctly sweeter natural flavor of Meyer lemons and organic honey. When your throat needs soothing and your cough needs quieting, provide yourself with the cough drop that contains only good-for-you ingredients!
Bing Cherry Ingredients: Menthol, beetroot juice, Bing cherry juice, organic brown rice syrup, organic cane syrup, organic honey, and organic slippery elm powder.
Meyer Lemon with Honey Ingredients: Menthol, natural Meyer lemon flavor, organic brown rice syrup, organic cane syrup, organic honey, organic slippery elm powder, and organic turmeric.
Regardless of the season, you can always benefit from having our organic cough drops around. Not only does a natural cough suppressant support your health-focused lifestyle since it's made with USDA organic and natural products, but it also effectively soothes your dry throat during colds.
USDA organic products are primarily derived from a number of ingredients produced on farms that employ sustainable practices, such as quality soil management, water conservation methods, and pollution control. All this encourages healthy ecosystems and biodiversity in addition to providing toxin-free consumables. There are three primary types of organic products, but all of them must have at least 70% organic ingredients.
Because our Cough Relief cough drops are made with organic ingredients, they are just better than conventional cough drops. Additionally, because they're produced with organic practices in mind, they're not exposed to high-risk toxins, irradiation and sewage sludge, synthetic fertilizers, GMOs, and more. So, no matter how severe or persistent your cough is, having a pack of organic herbal cough drops nearby is a wise investment.
USDA organic cough drops
USDA organic healthy cough drops, such as our Cough Relief Organic Bagged Lozenges, comply with USDA organic standards and are made with certified organic ingredients. This means there are no ingredients you won't understand or haven't heard of before.
When it comes to what you and your family consume, you want to make sure to skip common artificial ingredients, such as dyes and artificial sweeteners, that often outweigh whatever benefits the consumable provides. You don't want cough drops that will solve one problem but create another.
For example, dyes like FD&C Red 40 and FD&C Blue 2 are present in many conventional OTC medicines and food products. At high levels of consumption, they're known to be carcinogenic. 
You want the best organic cough drops that not only soothe your throat but calm your cough, made with only the best natural resources available to ensure they perform optimally. If you're in search of a high quality cough suppressant that actually works, we'll share some of our favorites below.
The Best Organic Cough Drops Around
It's always a good idea to have our organic cough drops on hand. Whether for yourself, friends, or family, you never know when a cough or sore throat will sneak up on you. Having a couple of organic cough drops will ensure you find immediate relief when you need it so you can focus on your day.
Whether your cough is new, or you deal with persistent coughs, an organic cough suppressant can soothe your throat, giving you much-needed relief. Our throat lozenges can get you through the height of the flu or pollen season with comfort.
Benefits of Our Organic Cough Drops
Before you shop, keep in mind we have the best lozenges around because they're the only USDA organic cough drop currently available. Our cough drops are formulated from scientifically studied ingredients derived from nature. They're free of harmful toxins, and they work for treating coughs and sore throats.
One reason our organic cough drops are trusted by retailers and customers is our unique ingredients. They're high-quality and familiar:
Menthol

 

is an organic resource that's made of peppermint, eucalyptus, and mint oils. It aids in calming irritated throats by cooling the airway. Each of our cough lozenges has 5 mg of organic menthol, the active ingredient.
Slippery elm powder

 

is another ingredient (inactive) that helps by using its throat-soothing properties. It's derived from the red inner

 

bark of a tree. Used to treat common ailments like fevers and sore throats, when combined with water, slippery elm powder forms a sticky material (mucilage) used for therapeutic purposes.
Beetroot juice

 

is extracted from the superfood, beets, and has several known

 

health benefits, such as lowering blood pressure. It also provides potassium and other minerals, such as iron, calcium, zinc, and copper.
Turmeric, an ancient root, is part of the flowering plant Curcuma, a member of the ginger family. The root is used for cooking and medicine, and it's where the benefits are derived.

 

Turmeric

 

is popular for its active component, curcumin, an anti-inflammatory antioxidant.
These main ingredients are rooted in nature - not created in a laboratory. We use only the highest quality sources that are supported by research to yield products, like our organic lozenges, that are truly effective.
Our mission to deliver the best to you and your family
At Quantum Health, we're all about helping people live better lives through our effective organic cough drops, as well as our dietary supplements, OTC drugs, and DEET-free insect repellent.
We know your health is important to you, and we understand the impact everyday products can have on that. We only sell products that are formulated with scientifically-backed ingredients, and that are inspired by nature and effective.
In business for 40 years, we have an impressive list of immune support, cold sore treatment, and dietary supplement products. Our TheraZinc immune support products are there for you as the season changes to keep you feeling your best, and our LipClear Lysine+ is highly effective in treating cold sores and has become the leading herbal/nutrient cold sore medicine in America and Canada.
From dietary supplements to insect repellent, if you need great products for your everyday health concerns, you'll find the best of them here.
Take care of your throat and cough issues the healthy way with our quality cough suppressant, Cough Relief Lozenges.