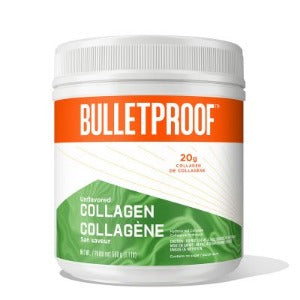 Bulletproof Upgraded Collagen 500 g
Bulletproof Upgraded Collagan - 454g (16oz)
Upgraded Collagen is the gold standard for protein powders. Amino acids are the building blocks your body uses to make muscles and sinew. Upgraded Collagen has amino acids glycine, lysine and proline which are the building blocks your body uses to make muscles, bones, and joints. Upgraded Collagen taken at bedtime provides arginine to stimulate growth hormone release, and provides nutrients necessary to perform tissue repair while sleeping. It mixes easily with other foods and shakes thanks to its neutral taste.
Upgraded Collagen is High Quality
Our Upgraded Collagen is sourced from pasture-raised cows. These cattle spend their entire lives in the pasture.
Upgraded Collagen is enzymatically processed several times to leave its peptides intact, resulting in a neutral tasting, highly available protein that is odorless and doesn't clump. It is far easier to use and contains more collagen than bone broth. Upgraded Collagen does not contain any dairy, egg, sugar, corn, yeast, wheat, soy, gluten, artificial flavors, or preservatives.
Our Collagen source (gelatin) is certified by the FDA as GRAS.
Collagen is one of the most important nutrients needed to maintain a strong body and keep you in healing mode.
Unfortunately, the average person has hardly any collagen in their diet! Collagen traditionally made its way into our diets through bone-broths, slow-cooked organ meats, kidney pie, baked beef heart, whole crustaceans, and whole fish soups and stews. But now, few people prepare foods with this source of meats, so we developed Upgraded Collagen to give ourselves the simplest and best source of these essential nutrients. Upgraded Collagen is a dietary supplement that can be added to any liquid drink, or meal you already make, without needing to cook time-consuming broths, stews, soups, and organ meats.