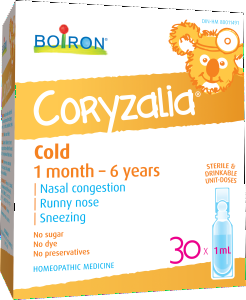 Boiron Children's Coryzalia
Coryzalia relieves cold symptoms in babies and children ages 1 month to 6 years.
About Coryzalia
Coryzalia relieves cold symptoms such as nasal congestion, runny nose and acute rhinitis in children ages 1 month and up. Available in easy-to-administer drinkable unit-doses, Coryzalia is sugar-, dye-, and preservative-free.
Available in 10 or 30 liquid unit-doses.
How to use
Children from 1 month to 11 years:
Administer one drinkable unit-dose at the onset of symptoms, 3 times per day. Reduce with improvement. Keep the remaining unit-doses in the aluminium pouch.
Why choose Coryzalia?
Parents and children alike will appreciate the ready-to-use, sterile water–based unit-doses, which are faster and easier to administer than ever. No mixing, no measuring, no fuss! And because they're a cinch to tote, they're a must for your travel bag as well as your home medicine cabinet.
Coryzalia relieves cold symptoms in babies and children
Children from 1 month to 11 years:
Administer one drinkable unit-dose at the onset of symptoms, 3 times per day. Reduce with improvement. Keep the remaining unit-doses in the aluminium pouch.Coryzalia relieves cold symptoms in babies and children
• ALLIUM CEPA 3CH
• BELLADONNA 3CH
• GELSEMIUM SEMPERVIRENS 3CH
• KALIUM BICHROMICUM 3CH
• PULSATILLA 3CH
• SABADILLA 3CH