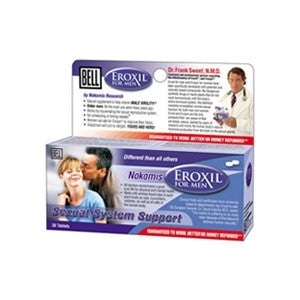 Bell Eroxil Virility For Men
Description
Bell Lifestyle Eroxil for sexual stamina:
Eroxil promotes a healthy and lively libido.
Health promoting plant derived polyamines.
Revitalizes the male reproductive system.
Optimizes sperm production and motility.
Supports an ideal level of sexual stamina and performance.
Eroxil has been designed with natural ingredients like polyamines and selenium by a herbal expert making it reassuringly safe. The antioxidant selenium, also considered to be an essential micronutrient, has been shown to support semen quality. Low selenium in the body is associated with a decreased sperm count – and not surprisingly, low sperm count is linked to low libido. Research indicates that adequate selenium amounts encourage the creation of healthy sperm. Selenium in high levels can be detrimental to sperm production, but the appropriate amount of the micronutrient can optimize male fertility. Eroxil hits the perfect balance with its carefully-calibrated formula. 
In addition, polyamines are organic compounds that are crucial to the growth and vitality of human tissues and cells. Polyamines are abundant in youth, but tend to diminish with age. Polyamines are concentrated in the testes, prostate gland, seminal vesicles, and other components of the male reproductive system. Research suggests that polyamines may optimize spermiogenesis, the preparation of active sperm, and sperm motility, which indicates the quality of sperm through its ability to move. 
Ingredients:
Spermidine 2.5 mg, Spermine 2.5 mg, Selenium 100 mcg.
Adult men:  
Take one tablet daily with water or as directed by a health care provider. If needed, after 10 days take 2 tablets per day. After 90 days, take less often as requiered. Use for minimum of 90 days.