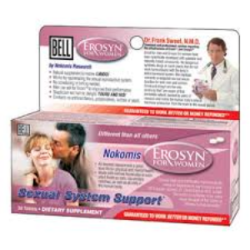 Bell Erosyn for Women
Bell Erosyn for sexual energy:
Increase libido and sexual energy for intimacy.

Rejuvenates sexual reproductive system naturally without side effects.

The only natural female enhancement supplement that works for women.



Lack of interest
 (libido) to make love is a main difficulty for most women when they are over 30, especially if there is too much stress in their lives from having a full time job and a household to look after. 
For years, women have searched the market place for a female enhancement supplement that can enhance their libido and increase their overall interest in sex to no avail. Although there are numerous drugs on the market for men, nothing has been developed that effectively addresses the sexual needs of women. Until now. 
Erosyn is an effective and safe female enhancement supplement that not only helps increase a woman's libido and sexual energy, naturally, but also works as an analgesic and anti-inflammatory, helping to reduce the pain and inflammation of such female disorders as endometriosis. 
Starting with ingredients which occur naturally in both plants and animals, our products were subjected to almost six years of rigorous testing and research to ensure their utmost safety. Clinical trials on small and large animals – including prize thoroughbred race horses – as well as extensive human observational studies, have shown the Nokomis products to work effectively and safely, with no evidence of any detrimental effects on health, growth or overall well being. Additional international research conducted by experts in the field, have overwhelmingly confirmed a safe history of usage.
Ingredients:

 Spermidine 2.5 mg, Spermine 2.5 mg, Selenium 100 mcg.
Adult women take one tablet daily with water or as directed by a health care provider. If needed, after 10 days take 2 tablets per day. After 90 days, take less often as requiered. Use for minimum of 90 days.