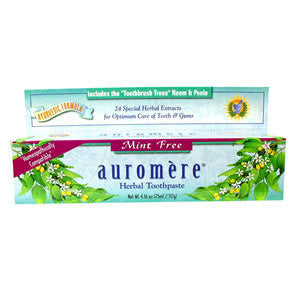 Auromere Mint Free Toothpaste
Ayurvedic Mint-Free Toothpaste
Naturally sweetened with licorice root and homeopathically compatible (contains no mint, eucalyptus or menthol which may reduce the effectiveness of homeopathic remedies).
Ingredients of Auromere Ayurvedic Mint-Free Toothpaste
Fine Chalk (a gentle cleanser), Glycerine (from vegetable oil), Water, Herbal extract blend: [Peelu (Salvadora persica), Neem (Azadirachta indica), Indian Licorice root, Pomegranate rind, Commom Jujube, Rose Apple, Clove, Persian Walnut, Barleria prinoitis bark (Vajradanti), Indian Almond, Bedda nut, Asian Holly Oak, Prickly Ash, Zanthoxylum alatum, Sappan wood, Catechu, Bengal Madder, Acacia arabica bark (Babul), Sarsaparilla, Cinnamon, Medlar bark, Mayweed, Bishop's weed (flower extract)], Silica, Sodium Lauryl Sulfate (from Indian coconut oil), Carageenan (from seaweed), Cellulose (plant) gum, Clove oil, Anethol, Geranium extract, Potassium Sorbate (Potassium salt), p Thymol (from Thyme oil).
Free of fluoride, gluten, bleaches, artificial sweeteners, dyes and animal ingredients.