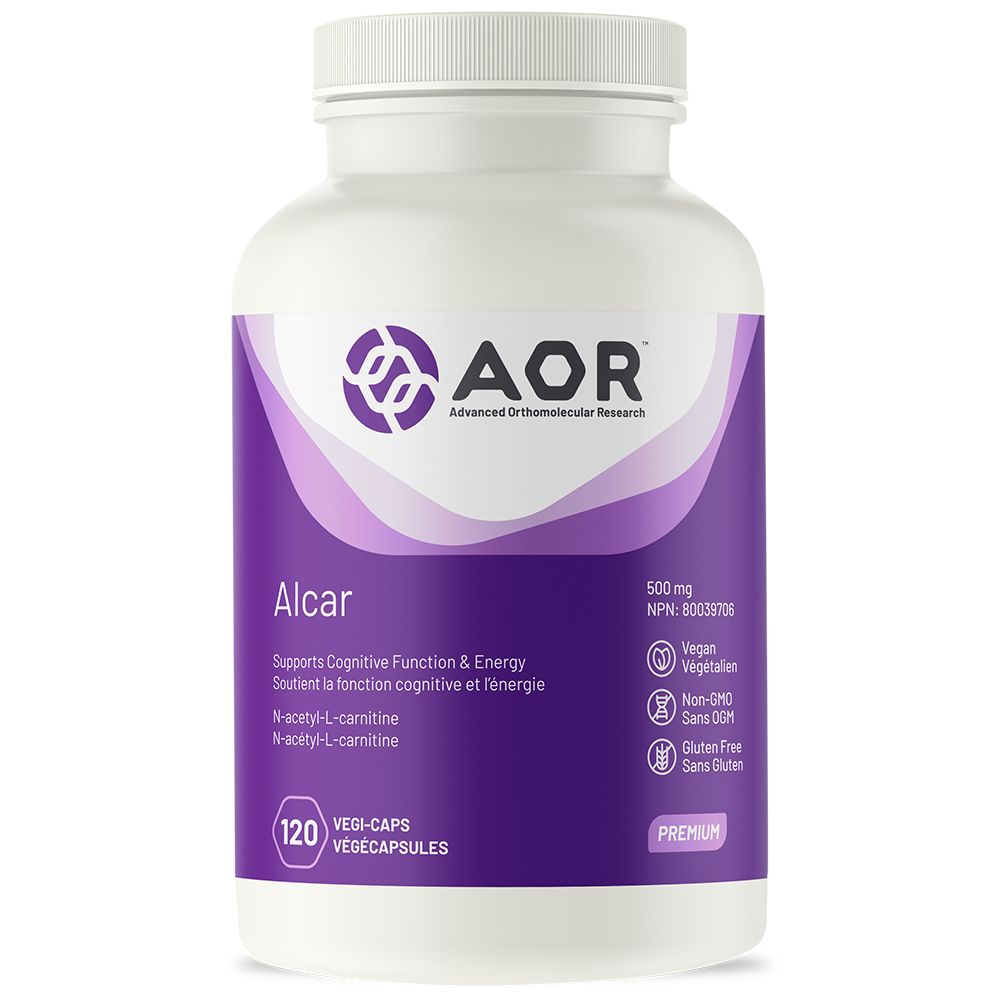 AOR - Alcar
The Best Carnitine for Your Brain
AOR's Acetyl-L-Carnitine offers a better absorbed form of L-Carnitine
Provides cognitive support in neurological dysfunction
Helps relieve pain associated with diabetic neuropathy
Supplement Facts

Serving Size: 1 Capsule

N-Acetyl-L-Carnitine (HCl)
500 mg
Non-medicinal ingredients: microcrystalline cellulose, silicon dioxide. Capsule:hypromellose.
AOR Guarantees: that no ingredients not listed on the label have been added to the product. Contains no wheat, gluten, corn, nuts, peanuts, sesame seeds, sulphites, mustard, soy, dairy, eggs, fish, shellfish, or any animal byproduct.
Adult Dosage: Take 2-4 capsules daily with food, or as directed by a healthcare practitioner. A minimum of 3 months may be required before observing an effect.
Cautions: This product provides 1.59 g of single amino acid per day. Consult a health care practitioner prior to use if you are pregnant or breastfeeding, have liver or kidney disease, have been instructed to follow a low protein diet, if symptoms persist or worsen or for use beyond 6 months. Feelings of overstimulation and/or sleeplessness may occur, in which case discontinue use if symptoms persist or worsen. Low incidence of seizures has been reported with oral doses in individuals with or without a pre-existing seizure disorder. Mild gastrointestinal symptoms (transient nausea, vomiting, abdominal cramps and diarrhea) have been reported. Body odor, flatulence, increased appetite or rash may occur.
Pregnancy/Nursing: Consult a health care practitioner before use
Source:
Pharmaceutical synthesis
Main Indications:
Cognitive Support
Neurological Health
Chronic Fatigue