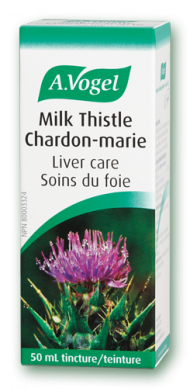 A Vogel Milk Thistle
A.vogel Milk Thistle
Traditionally used to treat: disorders of the liver, spleen and gall bladder hepatic, splenic or renal congestion gallstones hepatic pain and swelling.
Sugar-, gluten- and lactose-free
A.Vogel's Milk Thistle extract is prepared with great care. The silky hairs covering the Milk Thistle fruit are removed so that only the fruit is used in the tincture. This tincture contains silybin, silydianin, silychristin, isosilybin, small quantities of silandrin, silymonin and silybinomere, flavonoids like quercetin and taxifolin, phytosterols like sitosterols, and mucilage.
Milk Thistle's action mechanisms have not all been elucidated but its antioxidant, anti-inflammatory and anti-proliferative effects are acknowledged. Although clinically proven, its liver protection effect has not yet been explained.The German Commission acknowledges its benefits in cases of: dyspeptic complaints; toxic liver damage; supportive treatment in chronic inflammatory liver disease and hepatic cirrhosis.
Composition
Each ml contains tincture of:
Medicinal ingredient:
Milk Thistle (Silybum marianum) fruit (1:2) …923 mg, equivalent to 461 mg fruit. Daily dose (30 drops) contains 839 mg of Milk Thistle tincture.
Non-medicinal ingredient: 1 mL of tincture contains 0.61 mL alcohol (ethanol).1 mL = 33 drops. Dropper included.
Precautions, contraindications and interactions
In case of impaired liver function, seek medical advice prior to use.
Do not use during pregnancy or nursing without medical advice.
Avoid taking in case of known allergy to any of the ingredients in the product.
Do not use if safety seal is broken. Keep out of reach of children