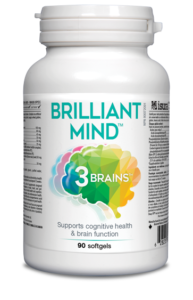 3 Brains Brilliant Mind
Description: 
3 Brains BRILLIANT MIND - Specifically formulated to support cognitive and cardiovascular health by combining nutrients that nourish both the brain and heart. Omega-3 fatty acids support cardiovascular health, enhance cognitive function, and have anti-inflammatory properties. Phospholipids provide the building blocks for healthy brain cells, and green tea extract provides antioxidant support.
Supports brain function and cardiovascular health
Helps build and protect healthy brain cells
Boosts cognitive function
Supports mood, memory, and brain power
Enhances focus and mental stamina
Directions: Take 2 softgels 2 times daily or as directed by a health care practitioner. Consult a health care practitioner for use beyond 12 weeks.
INGREDIENTS:
Each softgel contains:
Fish oil (anchovy, sardine, and/or mackerel) .....180mg
Omega-3 fatty acids .....90mg
Eicosapentaenoic acid (EPA) .....45mg
Docosahexaenoic acid (DHA) .....30 mg
Phosphatidylcholine (seed) ..... 50 mg
Phosphatidylserine (seed) (provided by 138 mg of Sharp-PS non-GMO sunflower lecithin complex) Also naturally occurring phosphatidylcholine (PC), phosphatidylinositol (PI), and phosophatidylethanolamine (PE) ...... 25 mg
Alpha-GPC (L-alpha-glycerophosphorylcholine) (seed) ..... 50 mg
Green tea extract (leaf) (75% catechins, 40% EGCG*) .....50 mg
*Epigallocatechin-3-gallate 
Non-medicinal Ingredients: Softgel (gelatin, glycerin, purified water, carob), yellow beeswax. 
Contains no artificial colours, preservatives, or sweeteners; no dairy, starch, sugar, wheat, gluten, yeast, egg, shellfish, salt, tree nuts, or GMOs.